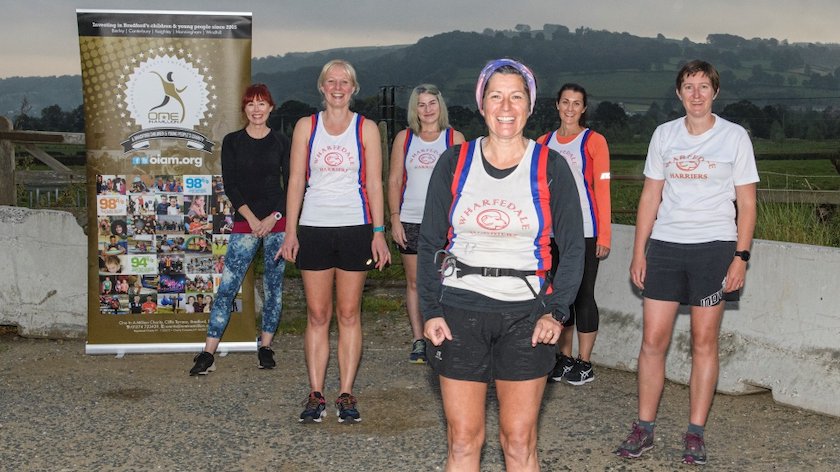 A group of local female fell runners are taking on a fundraising challenge by running a collective 5,000 miles.
The effort is to raise money for Bradford-based children's charity One In A Million, with the group of Wharfedale Harriers runners - who've nicknamed themselves the 'Wharfey Angels' - each set a target of 32 miles per week of running.
One In A Million is encouraging people to get active and raise money through it's 'One Million Steps challenge', which invites people to walk, run, trek, dance or cycle a distance of 500 miles in 90 days - equivalent to a million steps.
As experienced fell runners, the Wharfey Angels felt they could easily achieve much more than that, so they've raised the bar to aim for a target of 5,000 miles between them - that's 10 million steps!
The friends used to meet up weekly to run together and socialise, but have been unable to do so during lockdown and other subsequent Covid restrictions. So, to meet the challenge, they are running separately in different places in their own time – but co-ordinating their activities as a group effort using the Strava digital tracking platform which tracks the progress of each participant in a network using GPS data.
One of the organisers is Annie Milner, from Rosa Rugosa florist's in Haworth. She said: "The Wharfey Angels want to do something positive together through these sad Covid times - so what better than to help a charity in need like One in a Million? We've missed running together so much and this is something we can all be a part of.
"We're recording our smiles and miles on the Strava group which means we still feel like we are achieving something together. The challenge would normally be 500 miles but we felt that was a little bit too easy for us athletes, so we've made it 5,000 miles instead. Every step will help transform the lives of children and young people living in disadvantaged communities in Bradford."
Among the group is former Harriers team-mate Clare Pearson who moved to France three years ago, but remains a member at heart and she is doing her running 800 miles away.
One of the team captains, Emma Watson, is about 20 weeks pregnant but didn't want to miss out on the challenge, so will be jogging along at a very careful pace.
One In A Million children's charity, co-founded by former Bradford City AFC footballer Wayne Jacobs, provides weekly sport, arts, education and enterprise pathways and programmes for over 1,500 children and young people living in disadvantaged communities of Bradford.
Wayne Jacobs, One In A Million CEO, said "We are really grateful to Annie Milner and the Wharfey Women for taking on our 'One Million Steps Challenge' for One In A Million, to fundraise for children and young people living in our community. These are tough days within our communities and taking on this challenge will provide vital support for our work. Good luck ladies!"
For more information about the challenge visit oiam.org/millionstepschallenge
To sponsor the Wharfey Angels challenge go to justgiving.com/team/Wharfeys-Wifies