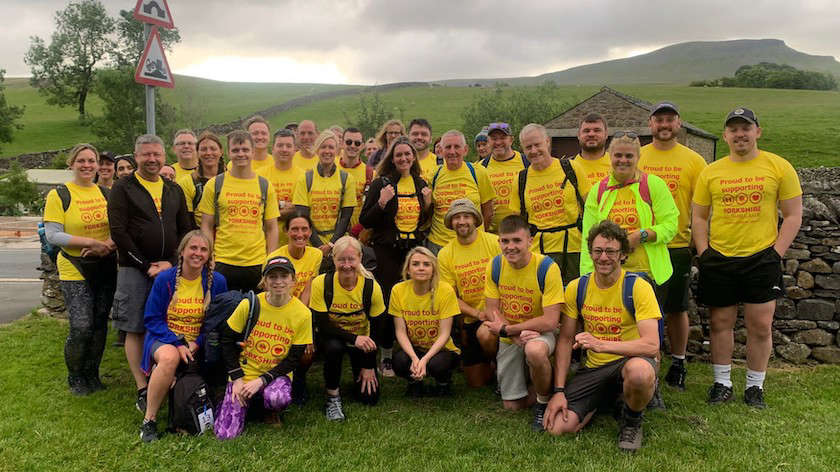 Staff and users at Craven Leisure in Skipton have completed a Yorkshire Three Peaks challenge to raise much-needed funds for the Yorkshire Air Ambulance.
A cheque for £3,325 has been handed over to representatives at Yorkshire Air Ambulance thanks to the fundraising efforts of staff and members at the Craven District Council-run facility.
Staff members Anthony Slater, Fiona Cowgill, Chris Cuthbert, Lucy Summersgill, Claire Megson, Steph Harrison and Rebecca Reynolds were joined by 44 members and put their best foot forward as they climbed the summits of Pen-y-Ghent, Whernside and Ingleborough.
Summing up the success of the fundraiser, Anthony Slater, Operations Manager at Craven Leisure, said: "It was a fantastic charity challenge and we've been delighted with the community spirit of people taking part and donating towards a cause close to our hearts.
"The Yorkshire Air Ambulance is a worthy charity that needs to raise £12,000 per day in order to keep the two air ambulances running. This is the second time Craven Leisure staff have participated in the Yorkshire Three Peaks challenge and I am pleased to say we did very well and the weather was glorious.
"Thank you to each and everyone who participated in the challenge and for the kind people who donated."
Tessa Klemz, North Yorkshire Regional Fundraiser at Yorkshire Air Ambulance, said: "We would like to thank Craven Leisure for their generosity and support and congratulate their staff members on completing one of Yorkshire's toughest challenges, the Three Peaks.
"As an independent charity, we are very grateful for all the support we receive from local communities and the £3,325 raised from the challenge will help greatly towards keeping our helicopters airborne and saving lives across the region."