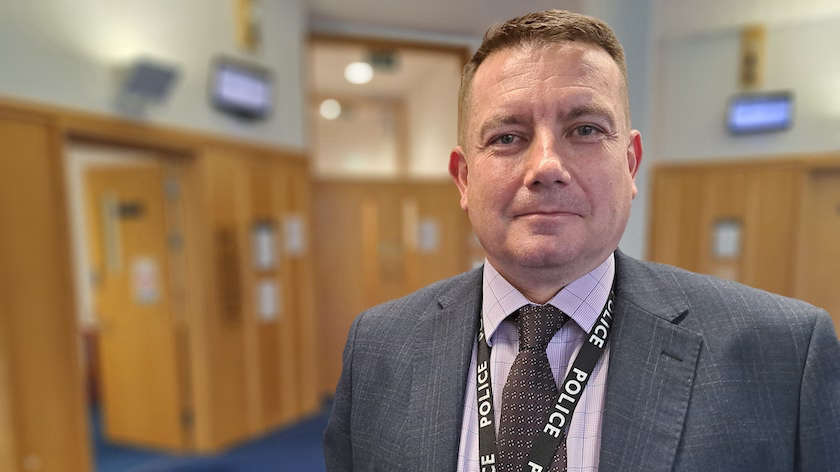 Detective Inspector Steve Menzies from the force's Major Investigation Team has been speaking after the sentencing this week of Brooklyn Bell, a Keighley drug dealer who stabbed a man to death in Skipton last year.
Det Insp Menzies was the Senior Investigating Officer in the case, and has revealed that the investigation also brought down the county lines gang that Bell worked for, resulting in other suspects appearing in court.
Bell was jailed yesterday for 10 years for the manslaughter of Simon McMinn in Skipton's Aireville Park last July, along with a number of other offences.
The stabbing happened during a drug exchange that went sour. DI Menzies has vowed that others involved in the 'vile' trade in North Yorkshire will follow Bell to jail.
Read the full statement from Det Insp Steve Menzies below...
"County lines drug dealing has been at the centre of this investigation. There are many reasons why people become involved in county lines; some are exploited, some chase perceived wealth, and others the misguided kudos and gang mentality.
"In reality such criminal activities result in misery, violence, death, or long custodial sentences.
"For anyone who isn't familiar with the term, county lines is the name given to drug dealing where organised criminal groups move and supply drugs across county borders and in to other towns, cities and rural communities.
"They exploit vulnerable people, including children and those with mental health or addiction issues by recruiting them to distribute the drugs, often referred to as 'drug running'. Or taking over the homes of vulnerable people in order to pedal their vile trade.
"They also use technology – the sort of technology which you, I and our children have access to.
"Gangs use mobile phones to set up 'lines' which drug users can text to buy drugs. Low-ranking drug pushers are recruited to actually do these deals.
"They may use everyday social media platforms to advertise drugs and even recruit young people into their immoral trade.
"To maintain their authority in an area they've moved into, county lines gangs use violence - those involved are often armed with weapons.
"We've taken down many county lines gangs in North Yorkshire and put dozens of members behind bars.
"When we raid houses to take drugs off the street, we often also find horrendous bladed weapons. The potential for death and injury is massive.
"The illegal carrying knives has serious implications, and there is always a risk that the knife will be used.
"In this case Simon McMinn, who was 44 years old, and was a son, brother, and father. He lost his life in Aireville Park in Skipton through the illegal carrying of a knife.
"Also, in August 2019 another man, who was 54 years of age, suffered serious injuries in a cowardly attack from behind near to the seafront in Bournemouth.
"Both victims were stabbed three times by Brooklyn Bell. He was a runner for others, higher up the drug supply chain, and the likes of Brooklyn Bell are used to carry the main risks of being captured by the police, and of serving long prison sentences.
"These runners often use, or face violence. But let me be clear, North Yorkshire Police and our colleagues in other forces will not tolerate county lines drug dealing, or the associated violence, in our county.
"We do and will continue to target all levels of county lines drug dealing, from the runners to the organisers – I need to let them know that 'we will come for you, no matter where you are'.
"Brooklyn Bell was a runner in a county line drug supply from West Yorkshire into North Yorkshire. He had also been a runner supplying drugs from London into Bournemouth in Dorset.
"He is now serving ten years and four months in prison, but we have also targeted those that he ran for.
"We have taken down the West Yorkshire-based county drugs line, and those involved at the top of the chain will soon be appearing in crown court.
"I want to thank my investigation team, all of the specialist teams that we utilised, colleagues in Bournemouth, and the prosecution team, for their dedication to the investigation of this case.
"I hope that the sentence will give some justice and comfort to the family of Simon McMinn, and that they can all try to re-build their shattered lives.
"I hope also that the sad circumstances of this case, and the resulting prison sentence for Brooklyn Bell, will act as a deterrent to anyone considering illegally carrying a knife, or anyone becoming involved in the supply of drugs.
"It's a sad fact that in 2022, illicit drugs are prevalent in every town in England, and all cause harm to individuals and our communities.
"North Yorkshire is officially the safest place in the country. We have very low crime rates overall, and whilst drugs are nowhere near the same levels we see in neighbouring urban areas, we will continue to target those who supply and buy drugs.
"Our job is to keep North Yorkshire safe. You can help us by reporting any concerns you have about drug dealing".