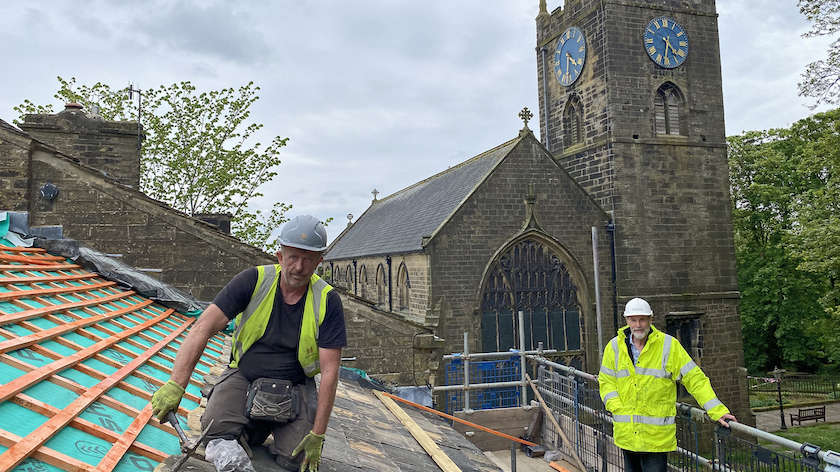 One of Haworth's best known historic buildings, Patrick Brontë's Old School Room in Church Street, is now within sight of completing its long-awaited roof restoration.
The Old School Room was established by Brontë, father of the famous literary family, as a National School in 1832 and a small charity, The Brontë Spirit, has spent the last twelve years attempting to locate sufficient funding to make the building waterproof once again.
In 2016 they succeeded in having the building's two extensions re-roofed but finding the money to restore the original 1832 section's roof has taken much longer.
Finally, work to restore the work the roof was started on March 13th thanks to grants received from the Government's Keighley Town Fund Community Grant Scheme, the Bernard Sunley Foundation and The Pilgrim Trust.
It is anticipated that the restoration work being undertaken by York-based Pinnacle Conservation Ltd., will be completed during June and will have cost £150,000. To that amount should be added the £101,000 spent on restoring the 1851 and 1871 extensions takes the total cost of restoring the building's roofs to £251,000.
Averil Kenyon, Chairman of The Brontë Spirit, said: "We are really grateful to the sponsors for enabling us to undertake this major project as well as our architect, Stephen Dixon of Calls Architecture who has been so patient and supportive down the years.
"We hope that Patrick Brontë would be pleased that we have succeeded in re-roofing his National School building, a far-sighted project he undertook to educate the village's children.
"The roof restoration will ensure that this historic building will still be available to the people of Haworth for many years to come and that a valuable community space will provide many opportunities for both families and organisations."
Liz Barker, the Vice Chair of the Keighley Towns Board, and Ian Hayfield the Chair of the Towns Fund Board, both expressed their praise for the project. Liz says: "I am so delighted to see this progress. I have great admiration for the Friends and Trustees of The Haworth Old School Rooms and their determination to restore and preserve this much-loved building for its intended use as a vibrant community space."
In recent years the Grade Two listed building in Church Street has hosted the village twinning meeting with Machu Pichu in Peru, exhibitions, community meetings, family events, artisan craft fayres and civic meetings.