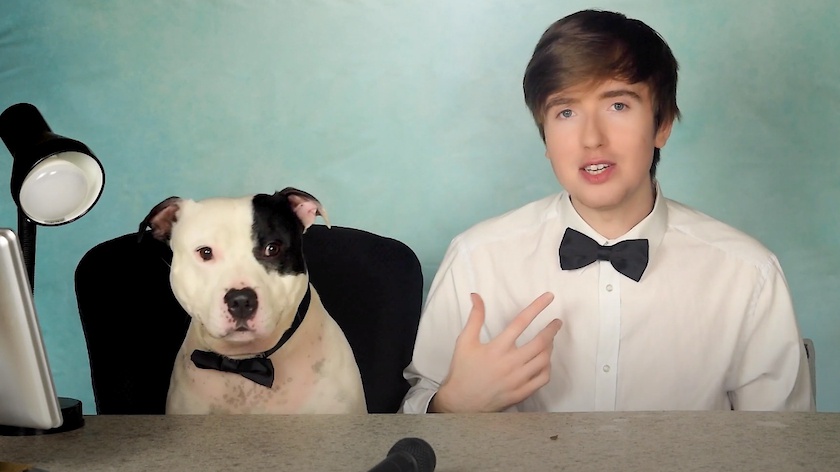 22 year old Sam Clegg has been talking to Rombalds Radio about the surprise of his 'alternative' Christmas advert receiving more than 2.5m views on YouTube.
Released on 1st November, the song Don't Let Me Go has been shared all over the world and Keighley resident Sam has been interviewed by ITV News and Channel 5 News - as well as being featured in national newspapers.
The video to accompany the song stars Sam's dad and his dog Charlie. The story is one of a relationship between a lonely man and his dog, and takes a turn for tragedy when the beloved pet goes missing.
Speaking to Rombalds Radio, Sam said: "The song basically deals with the themes of loss - and trying to express that one day, we'll hopefully meet again. But for the time being, although you don't want to let go and the person who you have lost is always on your mind, you do eventually have to let go. But it's supposed to be a song of sadness, but also hope - that hopefully we will be reunited in the end."
As well as the YouTube video, people have been downloading the track from Amazon, Apple and other outlets. It has become popular just as major national retailers release their 2020 festive TV adverts.
"Originally I had it online as the Alternate John Lewis Christmas advert because those adverts follow the same thing - it always has the typical happy ending," says Sam. "I don't think my advert has a particularly sad ending in my opinion - it's bittersweet in the way that they are reunited in the end. However, I don't think it probably would ever be commissioned by a TV channel as an advert because obviously it is really hard hitting. That's why I called it the alternative style advert - because it's really like an alternate take, but also just trying to raise awareness through a different sort of creativity outlet."
Click to listen to Sam's interview with us on the Rombalds Radio Local podcast feed.
Sam's track is raising money for two charities - Friends of the Elderly and Re-engage.
He added: "With each 79p purchase of the song all the money is going to be donated to those two charities. They do help a lot with the elderly and especially in this year with the pandemic and everything. I feel as though these charities need our help a lot more because the charity shops are closing down and other fundraising activities have just stopped."