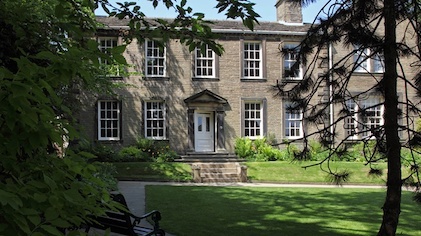 The Bronte Society, Jam on Top and the Thought Bubble Festival are sharing funding of around £230,000 from the government's Culture Recovery Fund.
The Bronte Society, which runs Haworth's Parsonage museum where the Bronte family lived receives £119,200.
Last month it warned of possible redundancies after being hit hard by not being allowed to have visitors for six months of this year.
Keighley music venue, recording studio and rehearsal space 'Jam on Top' on Dalton Lane is awarded £60,147 of government money, while Keighley-based Thought Bubble Festival - which runs an annual Comic Con in Harrogate receives £51,000 from the Culture Recovery Fund.
Thought Bubble posted on Facebook: "We are super happy to be able to announce that our bid for the Cultural Recovery Fund was successful. In a year where we have lost so much, it is welcome news. The fund will help so many incredibly important cultural cornerstones, including the future of Thought Bubble."
Skipton Town Hall is also getting £66,099 to help it prepare to reopen to audiences in a Covid-safe way next Spring.
Bradford Council receives £894,423 for its theatres, along with £208,536 for its museums service.
Cllr Sarah Ferriby, Portfolio Holder for Sport and Culture on Bradford Council said: "This is great news. The Museums and Galleries Service has worked hard to stay in touch with Bradford District's communities during lockdown and under the current restrictions and to reopen museum for visitors. This welcome award will make sure we are COVID resilient both in our museums and galleries and online and open up more work with our communities."
More than 1300 cultural and creative organisations across the country are receiving a share of the £257 million of funding announced today by Arts Council England the the government.
Culture Secretary Oliver Dowden said: "This funding is a vital boost for the theatres, music venues, museums and cultural organisations that form the soul of our nation. It will protect these special places, save jobs and help the culture sector's recovery. These places and projects are cultural beacons the length and breadth of the country. This unprecedented investment in the arts is proof this government is here for culture, with further support to come in the days and weeks ahead so that the culture sector can bounce back strongly."
We are #HereForCulture! We've been awarded £119k from the #CulturalRecoveryFund meaning we can continue to promote the #Bronte legacy, contribute to the #Yorkshire economy and support artists and writers. #ACEsupported. Thank you @ace_national @DCMS @hmtreasury @_RobbieMoore pic.twitter.com/SKvz3dIQXb

— Brontë Parsonage (@BronteParsonage) October 12, 2020