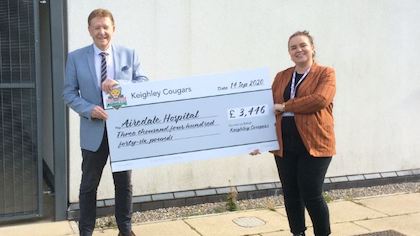 Local rugby league club Keighley Cougars has raised £3,446 for the Airedale Hospital Charity by selling special edition jerseys.
The charity shirts were launched back in April, aimed at raising funds as a thank you to all the key workers during the COVID-19 pandemic. The club has also donated 5,000 CE certified face masks to Airedale Hospital.
The club said: "The jersey is designed to show how grateful we are, not just as a club but as a nation, to the National Health Service and key frontline providers for putting their lives at risk to protect us during these unprecedented times.
"The players will wear this unique kit for our first home fixture back at Cougar Park, whenever that may be, and we as a club will host a special 'Thank You Day' for NHS staff and other frontline workers."
Jodie Hearnshaw, Fundraising Manager at Airedale NHS Foundation Trust says: "We are overwhelmed with this generous donation from the team at Keighley Cougars and their supporters. This donation is made even more special during these difficult times. We are delighted to use this money to support our employees and patients here at Airedale."
If you would like to support Airedale Hospital and Community Charity please visit this JustGiving page.
Photo above shows Keighley Cougars Chairman Mick O'Neill and Airedale Hospital Charity Fundraising Manager Jodie Hearnshaw.