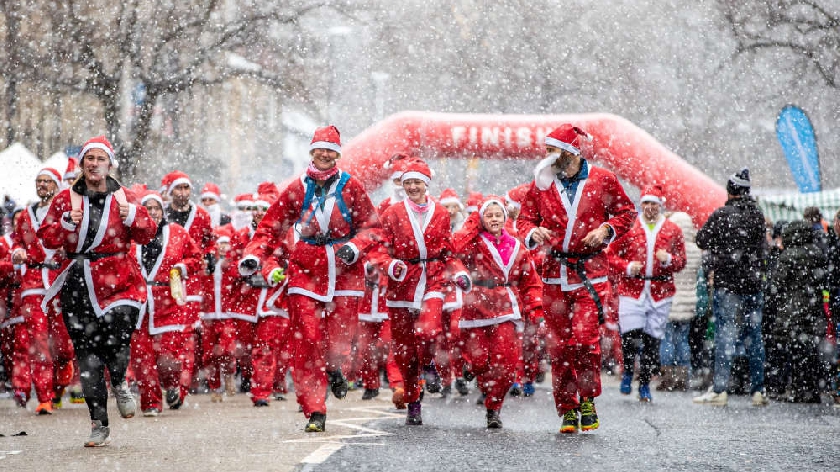 Photo: Stephen Garnett/Skipton Town Council
Summer may only just be starting, but plans are already in place for one of Skipton's biggest annual winter fundraising events - The Great Skipton Santa Fun Run.
The Rotary Club of Skipton Craven has announced that this year's event will take place on Sunday 27th November, which as has become customary, will be the pre-cursor to the Skipton Christmas lights switch on.
The event is supported by Skipton Town Council and Skipton BID.
The Great Skipton Santa Fun Run 2021 was an outstanding success with more than 1,600 participants braving the snow and helping to raise a massive £48,171 - including £10,966 raised by teams and individuals and sent direct to their chosen charities.
Rotarian Peter Ripley, Chair of the Organising Committee says: "This will be our 13th Santa Fun Run, albeit in 2020, it was a 'virtual' event.
"In our first year 400 people took part, and in 2019 we reached an all-time high of 1,954 participants. We hope to increase this to 2,000 this year.
"Over the last 12 years we have raised £375,580 through the Santa Fun Run, all of which has been distributed to local charities. It is only through the support and generosity of our sponsors and the people of Skipton and surrounding areas, who turn out in such numbers on the day, that we are able to raise such a fantastic amount of money each year."
Louise Close, Chief Officer of Skipton Town Council says: "We look forward to supporting the Rotary Club of Skipton Craven again in organising the Santa Fun Run. They support fantastic local charities and community projects.
"The event has become iconic of Skipton and displays the wonderful community spirit of the town."
Registration will open on Monday 16th May - you can find more information at skiptonsantafunrun.com