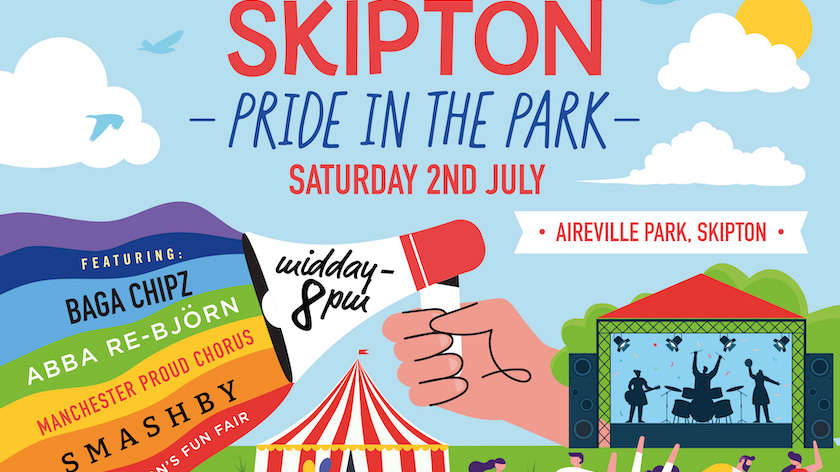 A whole-day Pride festival will take place in Skipton's Aireville Park this summer as part of a programme of events in the town to celebrate the LGBTQIA+ community.
Craven District Council's Cultural Services' team have been working alongside local community groups and partners such as Craven Youth Council, Skipton Library, SELFA, Craven College, Skipton Town Council and Pioneer Projects to raise awareness and promote equality.
The Town Hall delivered a selection of events for Pride month upon its reopening in July 2021. This year the programme comes back more ambitious and includes an LGBTQIA+ Film Festival showcasing uplifting, thought provoking independent cinema and a SpiceWorld Sing Along with 90s Disco on 18th June. There will also be special Pride editions of Craven Museum Make & Take family crafts on 25th June and Skipton Comedy Live on Friday 1st July.
Skipton Town Council has taken the lead on organising the outdoor event - Pride in the Park - which will take place from noon until 8pm on Saturday 2nd July. The day will consist of food and drink stalls and live entertainment introduced by the team from Rombalds Radio - including RuPaul's Drag Race star Baga Chipz and musical group Abba Re- Bjorn. There will be a fun fair with rides for all the family. A pop-up GP surgery, mental health stalls and charity groups will also be available on the day. Entry is free, but there will be the opportunity to make a donation should you wish to support future events.
Skipton Town Hall will be hosting a Get Ready for Pride event in the morning of 2nd July where young people can get together, make new friends, and walk down to Pride in the Park together. They will be providing glitter and face paints for those who would like to use them.
The Concert Hall at Skipton Town Hall will be the venue for the Pride Afterparty where you can enjoy an evening with internationally renowned drag act, Velma Celli from 8pm!
Craven District Council's Cllr Simon Myers, lead member for Enterprising Craven, said: "We're really excited to build on the success of our 2021 Pride events at Skipton Town Hall with an even more fantastic and diverse offer throughout June this year. Supporting our community and making sure everyone feels welcome and able to engage with cultural events and opportunities is at the heart of what we're about, and we are delighted to have been able to partner with passionate and enthusiastic young people and community groups in the district on this brilliant programme."
A spokesperson for Skipton Town Council, said: "We are looking forward to hosting Skipton's first ever 'Pride in the Park'. The event will be a fabulous family day for all ages, we welcome everyone to join us to celebrate Pride and step forward in progress and support of the LGBTQIA+ community. We hope this can become an annual event for the town."
For more information and to book tickets for the events planned visit skiptontownhall.co.uk. To find out the latest about Pride in the Park see the Skipton Pride social media accounts on Facebook and Instagram.