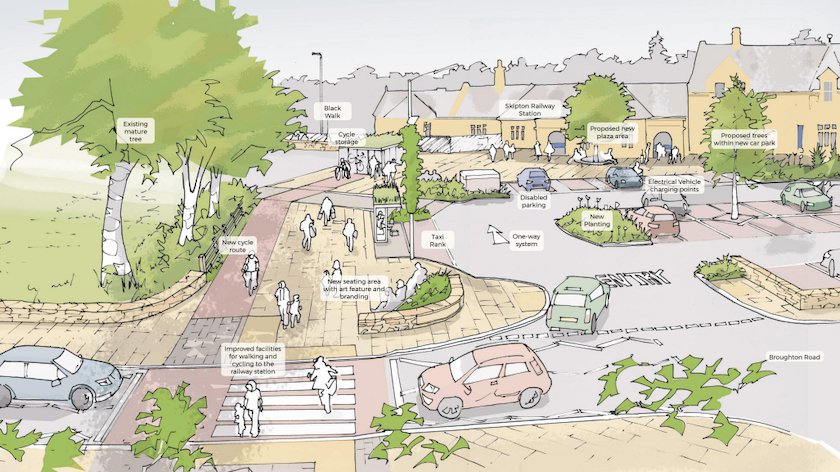 Almost £6m is to be spent on improving walking and cycling access to Skipton's railway station - and local residents' views will help shape the designs.
The West Yorkshire Combined Authority is running a consultation process until Wednesday 24th March - and also hosting some live events for people to find out more about the proposals (details below).
The improvements aim to benefit and attract residents, businesses, visitors and investors to Skipton - the project is a joint initiative between North Yorkshire County Council, Craven District Council, and the West Yorkshire Combined Authority.
Councillor Simon Myers, Craven District Council's Lead Member for Enterprising Craven, said: "This is an important scheme, which aims to encourage investment in Skipton and Craven, promote economic growth, and make the area more attractive for businesses and employees.
"These proposals will make walking, cycling and public transport more attractive for our residents, which is good news both for the environment and for the health and wellbeing of our communities. The scheme also aims to attract younger people and families to Craven, and improve access to employment and training opportunities.
"We are keen to hear your views as we develop and finesse these plans, to help us provide the best possible environment for our residents, businesses and visitors."
The plans consist of four areas of focus or 'zones' including the station gateway. In each zone, different changes are proposed although there are some common themes running throughout.
Zone One – Skipton Railway Station: Transforming the entrance to the station, creating a new plaza in front of the station, with seating, planting, lighting and other design features, improving the car park, footpaths and cycle access.
Zone Two – Broughton Road walking and cycling route: Creating a cycle lane along Broughton Road, and building new pedestrian crossings.
Zone Three – Railway Station to Auction Mart Canal Footpath Improvements: Upgrading and resurfacing the footpath along the north of the Canal, creating improved pedestrian routes between Skipton railway station, Craven Auction Mart and Craven College Campus.
Zone Four – Railway Station to Bus Station Walking Route Improvements: Improving Gallows Bridge and Black Walk, and building new pedestrian crossings.
Take part in the consultation at yourvoice.westyorks-ca.gov.uk/skipton
Live events to find out more and ask questions are taking place on: