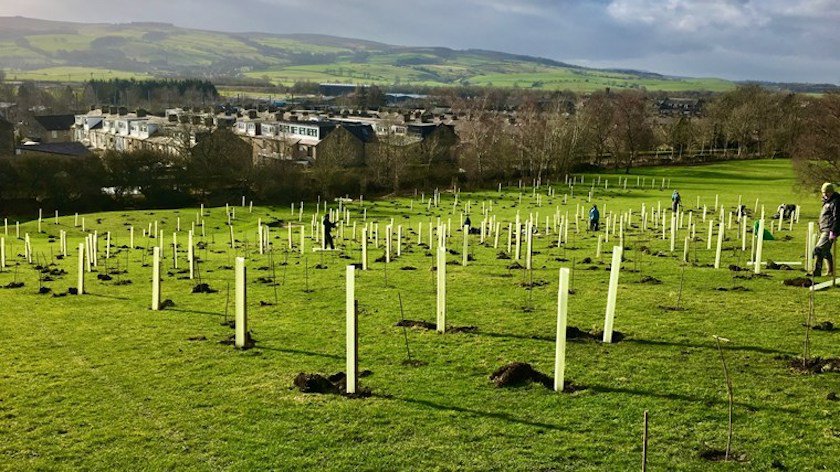 There are warnings that Craven will fall further behind on climate targets unless the government steps up support and brings forward new legislation.
Councillor Carl Lis, lead member for greener Craven at Craven District Council, told a meeting on Tuesday that the district was "not currently on track" to become carbon neutral by 2030.
He said while good progress had been made on tree planting and reducing the council's own carbon footprint, other areas were lagging behind.
"Unfortunately evidence suggests we are currently not making the progress that we would need to make to achieve our 2030 target," he said.
"The generation of renewable energy in the district has still barely increased since 2009.
"And we continue to see the development of new housing in the district that does not include the highest level of insulation, nor indeed renewable energy."
Councillor Lis said the poor energy efficiency of new homes was "particularly frustrating" and that the council would continue its calls for more planning powers to enforce greener home heating.
He said: "We are just not getting the assistance from the system to be able to do something about this.
"I also have to say, which is again really sad, that the availability of public transport has actually declined since the start of the pandemic.
"The changes that we need to see to meet our ambitious targets require changes in direction for national funding policy and legislation, particularly for housing and transport.
"We must continue to raise the need for these changes. If we do not, our ability to reach our ambitious and essential targets for carbon neutrality will become beyond our reach."
After declaring a climate emergency in 2019, the council has planted 9,000 trees on its land. There is also a separate pledge to plant 18 million more across Craven over the next few decades.
And through hundreds of solar panels, new insulation and air source heat pumps, it is estimated that 288 tonnes of CO2 will be saved each year at council buildings including Skipton Town Hall and Craven Leisure.
This is part of the £1.2 million Zero Carbon Craven project which councillor Lis said should be seen as a positive in the push towards a zero carbon district.
He said: "I'm pleased with the progress made on addressing emissions as a council.
"Despite the challenges of the pandemic and local government reorganisation, our assets team are more than half way through our Zero Carbon Craven project to retrofit our estate.
"Our better insulation, solar panels, heat pumps and energy management systems should achieve our target of reducing energy use in buildings by 30% by the end of 2023.
"We should also be proud of our work on tree planting, with around 9,000 trees already planted across the district.
"And it is likely we will need to plant more over the next 18 months."