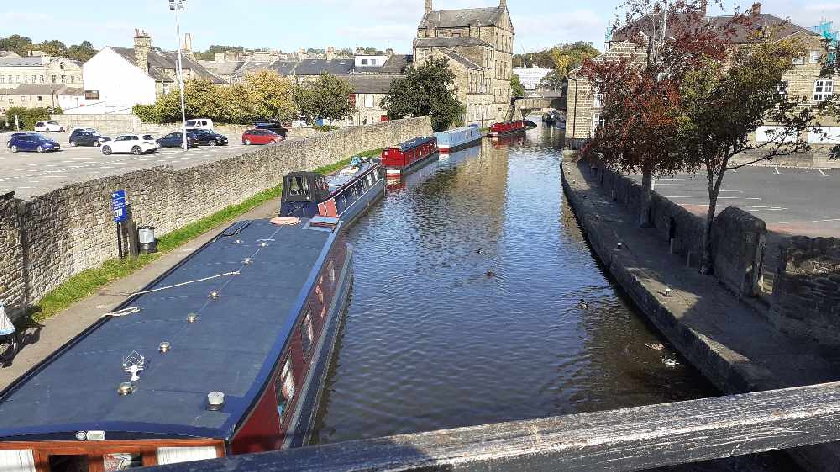 Energy could be generated from water source heat pumps along the Leeds-Liverpool canal as part of a series of carbon-negative energy schemes considered for Skipton.
Craven District Council has been awarded £90,000 from the government's Community Renewal Fund to investigate creating new ways of making clean energy.
Three ideas were put forward as part of the bid for funding:
1. Two potential anaerobic digestion sites – a way of breaking down waste to produce fertiliser, biogas and heat. The biogas provides sustainable power while the fertiliser removes the need to source fossil-fuel derived fertiliser products.
2. The installation of water source heat pumps along the district's canals. The pumps, which are becoming popular in Europe, use the temperature difference between the cold water and the air to create heat.
3. Heat recovery from industrial premises in Skipton.
The council will now complete feasibility studies on the proposals, with the Policy Committee also reviewing the ideas at its upcoming meeting later this month (30th November).
David Smurthwaite, Strategic Manager Planning and Regeneration, said: "The Council declared a Climate Emergency in 2019 and we're making good progress with our Zero Carbon Craven project to cut our carbon emissions.
"These innovative new ways of making energy are certainly worth investigating if we're going to have a chance of stopping climate change in its tracks and ultimately they could provide new jobs for the local economy."
Meanwhile a North Yorkshire-wide local area energy planning project has also received an award from the same fund.
North Yorkshire County Council has been given £768,876 to deliver its own feasibility studies exploring electric vehicle potential, plant-based renewable energy and how to tackle hard-to-decarbonise buildings.
Craven District Council and North Yorkshire County Council have been working in partnership with the York & North Yorkshire Local Enterprise Partnership (LEP) on the proposals.
Its Chair, Helen Simpson, OBE, said: "In the light of COP 26, we're delighted that this project has been funded. York and North Yorkshire has the potential to cut carbon emissions beyond net zero and to thrive economically as England's first carbon-negative region.
"A blend of feasibility and planning based activities, this project is based in evidence emerging from carbon abatement pathways research and has been brought to life through the committed collaboration of local authorities and partners across the region, including the North East & Yorkshire Energy Hub. This work will help our region develop energy systems that are the most efficient they can be and that bring the most benefit to local communities in the long term."