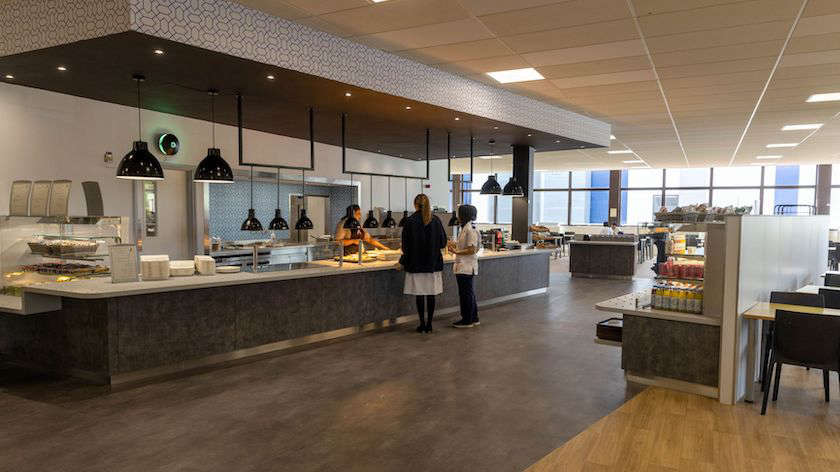 Airedale General Hospital's restaurant has undergone a £450,000 makeover and has now re-opened to patients, visitors and staff.
The restaurant space has been opened up to provide seating for around 121 people and a second counter has been added to help streamline the ordering process and reduce waiting times.
The additional counter also serves as the basis of a new, sleek and modern lounge area that will serve Starbucks coffee, hot and cold sandwiches, snacks and salads.
The original food serving area has been fitted with new counters, flooring and lighting that help to brighten up the space.
Mark Isherwood, Head of Retail for the AGH Solutions Catering Department, said:"This is a major investment for the Trust and AGH Solutions and we hope that it will provide a better user experience for patients, staff and visitors."
"We're looking forward to being fully open and we hope that everyone will enjoy the new facilities."
The refurbishment project has been led by AGH Solutions and Restaurant Design Associates and has taken around nine weeks to complete.
To coincide with the restaurant's new look, the Catering team have launched a new menu and several sustainable initiatives.
Catering Dietician, Charlotte Lloyd says: "We will be offering a new and delicious menu that will cater for a diverse range of nutritional requirements including vegetarian and Halal."
The new menu features vibrant and fresh dishes including Chermoula aubergine, Spanish-style fish, black bean and sweet potato tacos and summer risotto.
"Sustainability is also a key focus for our Catering department," says Charlotte.
"We have introduced several small initiatives that will help to make a big difference in reducing restaurant waste."
The team is offering a 25p reduction on the price of any hot drink or main meal if a customer has brought in their own clean and reusable food/drink container. Customers are also encouraged to bring in their own cutlery for food being taken away from the restaurant as disposable cutlery will only be made available upon request.
The restaurant is based at Location C30 within the hospital and will be open 7.30am – 6pm on weekdays and 7.30am – 3pm on weekends.