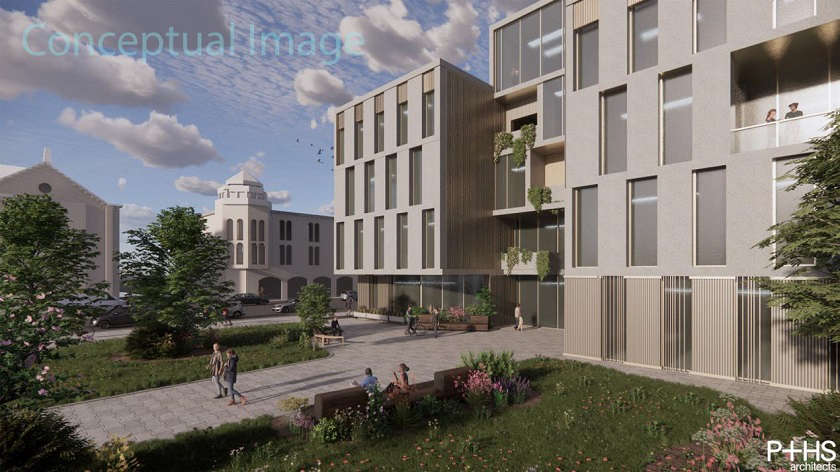 Keighley has on Friday received Government confirmation of the funding it needs to proceed with building a new health and wellbeing centre.
The funding of £3.4million forms part of a Towns Fund grant from the Department for Levelling Up, Housing and Communities (DLUHC).
It means that building the centre can now get underway with the centre expected to open in the summer of 2026.
The new facility would include GP services, self-care and prevention, community care, mental health, dental care, a GP training hub and other healthcare services, at an accessible town centre location.
The scheme would also bring around 200 jobs to the town centre, 50 of them being new posts, helping bring extra footfall to local shops and other businesses.
The site on which the new centre will be built comprises two areas of brownfield land at the corner of North Street and Cavendish Street, previously occupied by Keighley College, which was demolished in 2017.
Ian Hayfield, Keighley Towns Fund Chair, said: "It is fantastic news for Keighley that we've been given the go-ahead by the Government for the Health and Wellbeing Centre. It is a project that will make a real difference and bring in much needed investment to help achieve real social and economic change for our community."
"I want to thank all the residents and businesses of Keighley, the project sponsors, my fellow board members and the council for the hard work that has gone in over the last few years."
Professor Mel Pickup, place-based lead for Bradford District and Craven Health and Care Partnership, said: "The funding announcement is great news for the people of Keighley and for our whole health and care partnership. The new Health and Wellbeing Centre is much needed and will provide a 'state of the art' integrated health and wellbeing centre at the heart of Keighley. The centre will bring a wide range of services under one roof, and help ensure local people receive the care they need closer to home. This project is an exciting opportunity to construct a landmark building on the central site that enhances the town centre, provides value for money and, most importantly, improves the health and wellbeing of local people."
Cllr Alex Ross-Shaw, Portfolio Holder for Regeneration, Planning and Transport, said: "The announcement today is a great result for Keighley. It will bring a brand new facility in the heart of Keighley, in easy reach of transport links and which will provide essential services to improve the lives of those living in the community.
"In addition it will be a great boost for investment and jobs for Keighley and the wider district. This is a partnership success and thanks must go to the Keighley towns fund board and everyone involved in this bid who has made this happen."
Reaction
Keighley MP Robbie Moore said: "Bradford Council seem to have forgot that only just a year ago, we had a public referendum in Keighley and the town voted strongly against our Green Space on North Street being built on. Keighley should have had the best of both, a new Health and Wellbeing Hub and kept the Green Space on North Street Green. But given Labour-run Bradford Council's useless, idle approach with them not exploring other brownfield sites or empty buildings in the centre of Keighley - our Green Space is now due to be built on. I have always said that I want to see a new Health & Wellbeing Hub in the centre of Keighley and for our Green Space to stay green."
"It is therefore infuriating that despite pressure throughout the last 3 years by me and the clear democratic result of the public referendum held in Keighley in which 61% of residents voted to keep our Green Space Green, Labour-run Bradford Council chose to dither and delay, and not explore other brownfield sites within the centre of Keighley to locate our New Health & Wellbeing Hub on.
"Whilst it is great news that £3.4million has been allocated to the project by our Conservative government, it is my view there are still plenty of brownfield sites or empty buildings elsewhere in Keighley where it should have been built. This is a classic example of Labour-run Bradford Council running roughshod over a democratic process and ignoring the views of the Public Referendum in Keighley by only presenting this single option to the Government. As a result - due to the Council's laziness our Green Space is now due to be built on to prevent the loss of funding within the allocated timeframe."
Minister for Levelling Up, Dehenna Davison MP said: "Given the strength of local community support for adopting the North Street/Cavendish Street site as a green space as expressed through the parish poll, I am very disappointed that an alternative site for the Health and Wellbeing Centre could not have been found. Especially as it has now been almost three years since the Towns Fund prospectus was first published, and almost a year since the parish poll was carried out. I understand throughout that time, the local MP, Robbie Moore, has strongly campaigned, on behalf of his constituents, to have the best of both worlds – both a Health and Wellbeing Hub built in the centre of Keighley, and the full retention of this site as a green space."
"Given the timescales for the Towns Fund, with a need to spend all funds by March 2026, I would be concerned that any further work now to explore alternative sites would impair the viability of the Health and Wellbeing Centre being completed in that time."