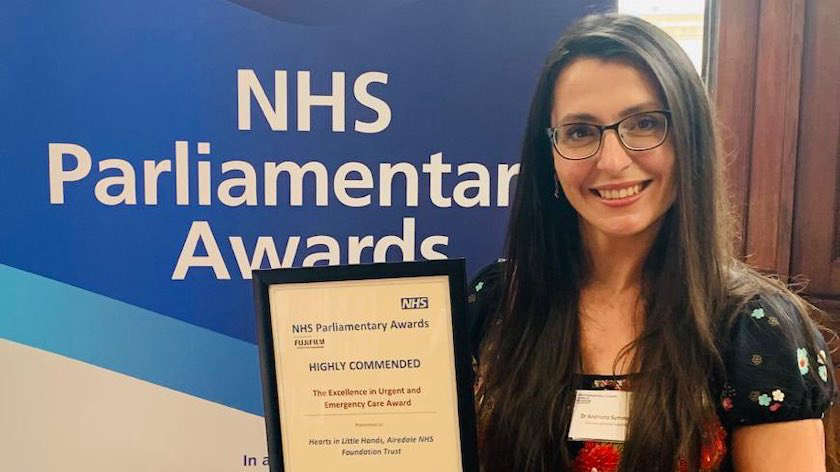 A team from Airedale Hospital that teaches CPR and basic life-saving skills has been Highly Commended in a national NHS awards ceremony.
The doctors and nurses from the 'Hearts in Little Hands' were nominated for the Excellence in Urgent and Emergency Care award category by Robbie Moore MP. Before the pandemic, the team visited local primary schools and used demonstrations and songs to show children how to help in medical emergencies.
Dr Annie Summers, speciality doctor in Emergency Medicine at Airedale NHS Foundation Trust accepted the award in London on behalf of the team. She said: "It was a privilege representing our team and the hospital. It was very unexpected considering our little venture is simply a drop in the ocean of some of the incredible work that other teams across many parts of England are doing behind the scenes.
"We just had a team of us who wanted to do more and teach these little ones, give them the life-saving skills and maybe one day they'll be able to do something very simple and basic but enough to save someone's life. We are immensely proud and would like to thank Robbie Moore for nominating us."
Mr Moore added: "I am delighted that the Hearts in Little Hands team were recognised in the NHS Parliamentary Awards. This is well deserved by all in the team. Their continued efforts to teach children, parents and carers CPR and basic lifesaving skills is a vital asset to our community, now more than ever. We all saw the tragic event last month when Danish football player Christian Eriksen suffered a cardiac arrest on the pitch during his side's Euro 2020 opener against Finland. Learning these vital skills at a young age could be the difference between life and death. Long may this inspiring team continue their lifesaving work."
The judges awarded the Hearts in Little Hands their highly commended award because of the importance of teaching these vital skills to children. This follows an announcement last month that the NHS is launching a CPR army as part of a new partnership with St John Ambulance, to deliver an NHS programme encouraging everyone to learn CPR and how to use defibrillators.