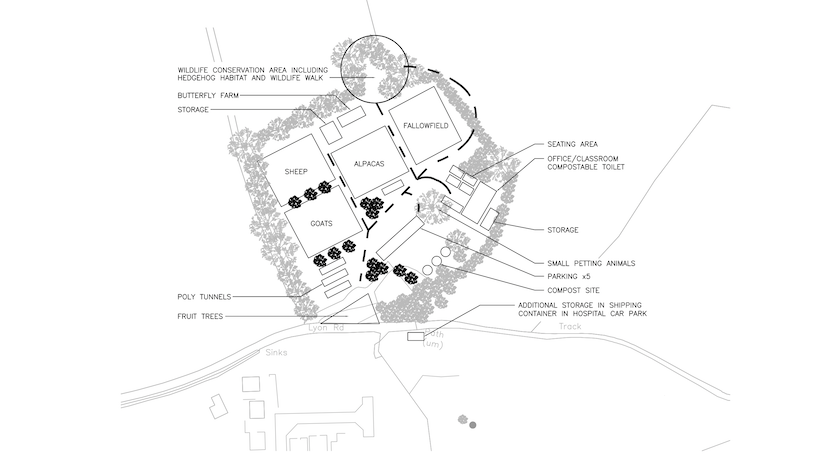 Residents of Steeton, Eastburn and the wider area are being asked for their views on early plans for a new community care farm on the grounds of Airedale General Hospital.
The farm would be at the end of Lyon Road on the south side of the hospital site and would be a community venue with locals able to grow and harvest fruit and vegetables on the site. There could even be small numbers of animals such as pygmy goats kept on the farm to support therapeutic well-being activities.
The idea is that it would adapt and develop to meet the needs of local groups such as schools, older people's clubs, mental well-being groups and wildlife conservation projects.
Care farming is a popular method of supporting people with their physical and mental wellbeing, reducing social isolation and offering opportunities for people to gain confidence and valuable life skills.
Scoping for the project has been done by the Airedale NHS Foundation Trust together with local charity Project 6.
An open event is being held at the proposed site this Saturday (20th November) between 10am and 1pm for people to drop in for a hot drink and chat about the plans.
Vicki Beere, Chief Executive of Project 6, said: "We are excited to be able to explore this idea and partnership with Airedale NHSFT and other community groups.
"We know that being outside in nature, looking after animals and physical exercise are invaluable to people struggling with their mental health and dependencies on substances such as alcohol.
"It will provide people with structure, routine, and the chance to give support to others who have come through similar issues. Plus, there will be lots of volunteering opportunities and links created to local colleges.
"It's an opportunity to work with local communities and people to create something different and unique that will help people from this area for years to come."
Professor Brendan Brown, Chief Executive of Airedale NHS Foundation Trust, said: "A lot of our patients come from farming and horticulture backgrounds or simply love animals and nature.
"The care farm will be a facility we can use to help them reconnect with the outdoors and regain their confidence and skills in a supportive and therapeutic environment.
"We are very excited at the prospect of creating this community asset that will not only benefit our patients but will be a place for everyone to enjoy."
More information about the proposed farm is on the Airedale NHS Foundation Trust website at www.airedale-trust.nhs.uk/about-us/carefarm/ with comments, suggestions and feedback invited until Friday 10 December.