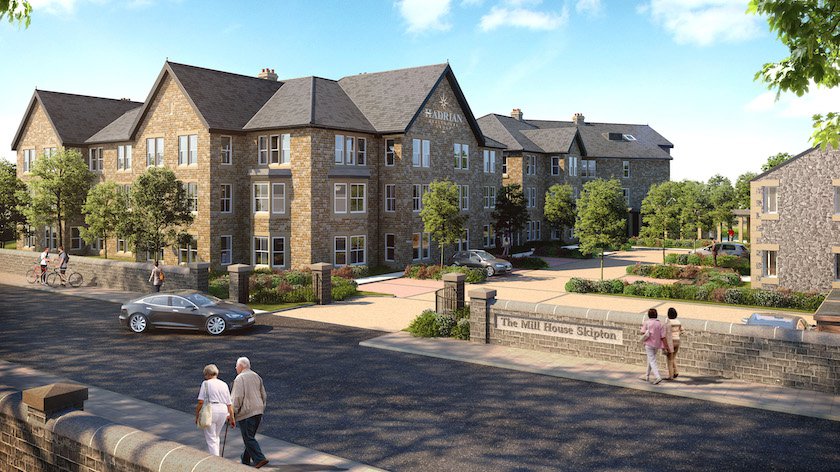 The Mill House project on Sackville Street will include 86 suites for residential care and 8 supported living apartments.
The site opposite Westmoreland Street, a former mill backing on to the Leeds-Liverpool canal, is being developed for Hadrian Healthcare and is expected to create up to 100 permanent jobs.
The company says The Mill House will offer 86 suites for residential care, together with its specialist 'Chesters' accommodation, which has been specially designed to provide a 'luxurious, safe and stimulating environment' for people with dementia. Accommodation will be arranged in small living groups to help create a 'home-from-home' feeling. There will also be respite care available for those who need a short break away from their home or convalescence after hospital treatment.
In addition, there will be eight supported living apartments for people wishing to maintain a more independent lifestyle, whilst having the benefit of all the Mill House support and services. These will include hairdressing and beauty treatments in the beauty salon, restaurant, and bistros, including a traditional style tearoom and bar, and a retail area selling a wide range of products.
Hadrian Healthcare's owner and chairman Ian Watson said: "We are delighted to be starting work on this fantastic development in Skipton. It almost seems to be underselling what will be available to mention 'bedrooms' when what we are providing is an exclusive quality of life for discerning older people who can no longer live by themselves, but want to maintain their lifestyle, individuality, and dignity.
"We look for sites that reflect what we offer by their location, so it's no coincidence that this is a prime position in Skipton which will have beautifully landscaped private gardens, close to local amenities and shops, as well as the town centre.
"There will be special garden terraces for our residents where they can enjoy the stimulation of being outdoors overlooking the calm waters of the canal. As a result of the amazing location there are also plans to include regular summer outings on the canal for residents in a dedicated canal boat."
The Mill House is expected to open in September 2022.