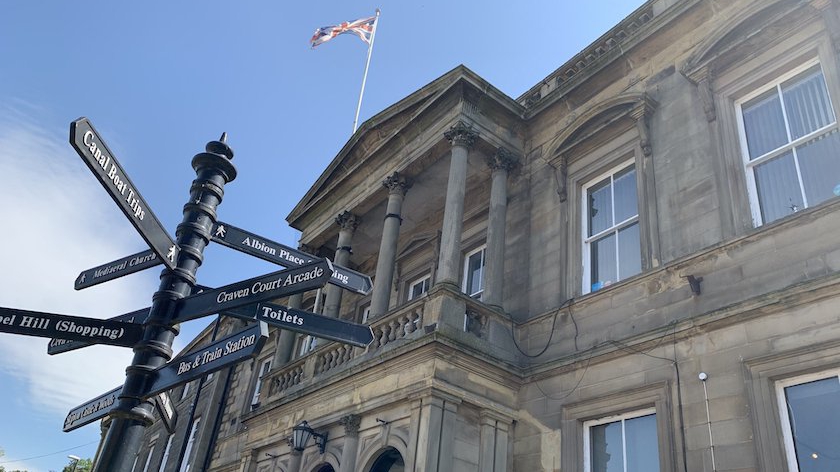 The first solar panels have been installed in Skipton as part of a £1.2m project to improve the carbon efficiency of council buildings.
Aireview House on Broughton Road, Craven District Council's accommodation for the homeless, has had 16 solar panels installed to provide electricity for the building, which has already saved 116kg of carbon on average each week.
Work will start this month on installing solar panels covering most of the roof of Craven Leisure in Aireville Park - and investigations are underway to determine whether a system using bore holes to provide heating for the swimming pool will work.
Skipton Town Hall is also due to have solar panels installed, subject to planning permission - and sheep's wool insulation could be added to the roof of the Concert Hall there.
And at Skipton Crematorium, the council says it is looking into the feasibility of integrating solar panels and insulation as part of a project to replace the roof of the Remembrance Chapel.
Craven District Council also says it hopes to display daily carbon information at Craven Leisure, Skipton Town Hall and the council offices at Belle Vue Square, so that visitors can see how much is being used and saved as part of the Zero Carbon Craven project.
Lead Member for the Environment, Councillor Carl Lis, said: "I am so pleased work has now begun to retro fit our buildings with the technology to reduce carbon emissions.
"This investment is a significant step forward in our move to being net zero by 2030 and I am looking forward to seeing how the project progresses over the coming year. An enormous amount of work is taking place to make sure the funding is spent in the most effective way to maximise the carbon savings we can make.
"It's a challenging project due to the historic nature and age of some of our building and we also have to take into account sensitivities around the Remembrance Chapel when planning the work.
"We are hoping this project will inspire our residents to install their own carbon saving measures and will be launching a campaign focusing on this in the autumn."