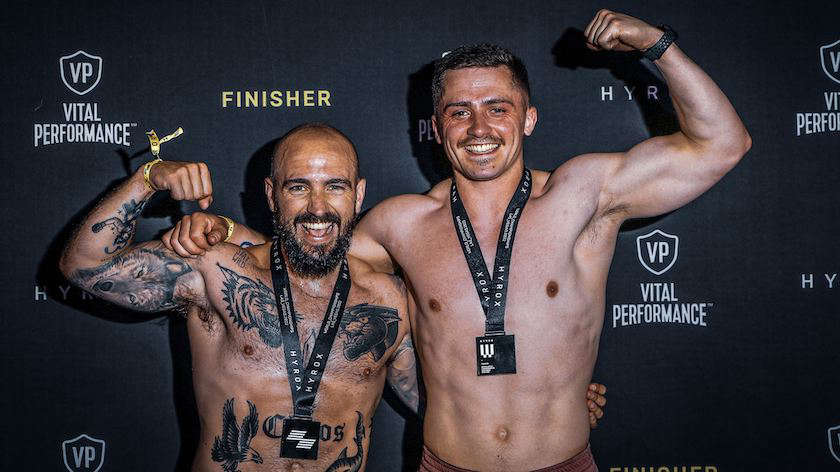 Local gym coaches Chris Cummins & Harry Morse have placed 11th in the world of their age category at the fitness competition HYROX in Las Vegas.
Chris and Harry from CrossFit Skipton, based in Embsay, beat thousands of competitors around the world to finish 11th in the 16-29 category and 44th overall in the world at the HYROX Fitness race world championships. It follows a gruelling 8 month training regime that included running, rowing, gymnastic, and strongman exercises.
The HYROX fitness championships is a global fitness race where athletes around the world compete in the same race on the same course and each event hosts up to 3,000 participants. The competition starts with a 1 km run, followed by 1 functional workout repeated 8 times. Participants wear a timing chip and receive an individual finishing time, with comparable results through Global Rankings across all events and in each age group.
All culminating in the World Championships, where the athletes with the fastest times from each division in each city around the world go head-to-head. After qualifying in Manchester back in January 2022, Chris and Harry fine tuned their training and have been preparing for the world championships since then.
Alongside a small band of CrossFit Skipton supporters, Chris and Harry made the long journey over to Las Vegas and after adjusting to the heat and jet-lag competed early last Saturday morning in their HYROX race, finishing in a time of 1 hour 1 minute and 28 seconds - which was good enough for 11th place in their category and 44th in the world!
Chris, Skipton born business owner and head coach says: "Competing out in Las Vegas was such an incredible experience for Harry and I. Training over the past few months has been brutal and to show off our progress on the world stage was fantastic. It was great to have support from some of our members and friends and it was amazing finally to share the stage with some of the fittest people in the world.
"I just wanted to personally thank the Skipton branch of the Royal British Legion and our friends over at WIT Fitness who supported our efforts out in Las Vegas. Also, it was truly an honour to share this experience with my good friend and colleague Harry!"
As a coach for CrossFit Skipton, one of Harry's responsibilities is the programming for the classes in the gym, as well as coaching the classes, personal training with clients and inducting new members into CrossFit.
Harry says: "We've had months to plan and build the perfect training programme to give us the best chance to come out on top in Las Vegas. After a tough few months of ramping up training to its most intense, we felt fully prepared to give the world championships a run for its money.
"Whilst dealing with a bit of jet lag and adjusting to the Las Vegas weather we gave HYROX our all, for just over an hour! We're both super proud of our performance and we're so happy we qualified for the world championships. We will certainly be back next year and will aim for that top spot! Once again, thank you to all those who have supported us and have helped us get out here to the world championships!"