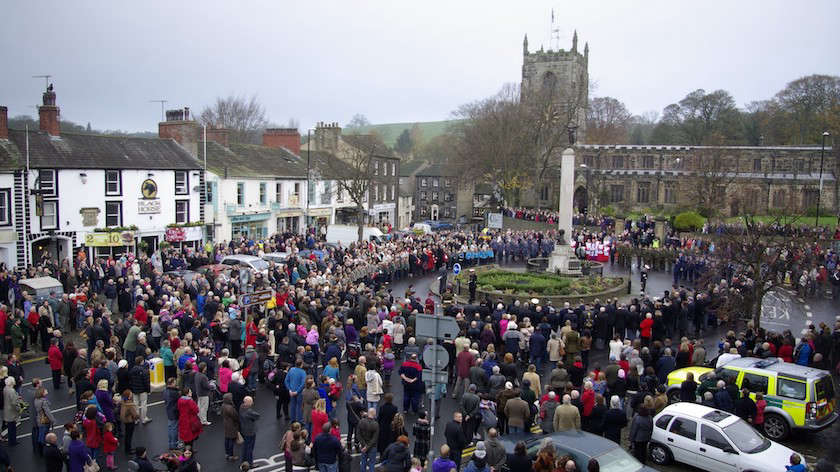 Services will take place across the area on Sunday 12th November this year to mark Remembrance Sunday.
In Skipton, the High Street will be closed between 9am and 1pm on the day, with parking also suspended on parts of the High Street ahead of the event which begins at 10.30am.
Ilkley's Remembrance Sunday service is in the afternoon at 3pm following a parade along The Grove to the Memorial Gardens.
And in Keighley, the parade will move from the Parish Church along North Street to the Town Hall Square for the service at 11am.
You can see full details of the events taking place across our area below.
Skipton
This year's Remembrance Day Parade will take place on Sunday 12th November 2023. If you would like to join in remembrance, please come to Skipton High Street for 10:30am. There will be a eulogy, wreath laying, and words of remembrance provided by Holy Trinity Church. The parade will return back to Bunkers Hill, via Otley Street, at approximately 12pm. Skipton Brass will also be accompanying the service.
To allow for the Parade to take place safely, a number of town centre roads will be closed to traffic at times between 9am until 1pm – including the High Street. Parking will also be suspended on the top part of the High Street from first-thing Sunday until after the Parade.
Kildwick
From 10.45am at Kildwick War Memorial
Cononley
From 10.45am at Cononley Institute
Bradley
From 10.45am at Bradley Village Hall
Ilkley
The parade will assemble 2.20pm at Whitton Croft Road (directly behind the Town Hall), the parade marches left onto Chantry Drive, left onto Station Road and straight onto The Grove. At 3pm the Remembrance Service begins, led by the Rev Adam Roebuck and wreath-laying ceremony in the Memorial Gardens on The Grove.
Addingham
10.30am Service at St Peter's Church, Church Street, Addingham. 11.45am Parade from St Peter's Church to the War Memorial, Main Street (by Memorial Hall). Wreath laying ceremony.
Burley in Wharfedale
10.45am Outdoor Service and Act of Remembrance at the war memorial by Burley Grange. The Methodist church will be open for anyone to watch the live streamed outdoor service at 10.45am if they don't wish, or are unable, to stand outside. The outdoor service will last for approximately 30 minutes.
Menston
Service of Remembrance to be held at the Memorials outside Kirklands Community Centre. Assemble for service led by local ministers at 10.30am service will commence 10.45am Refreshments in Community Centre following service.
Keighley
Civic dignitaries meet at Town Hall, parade assembles at Russell Street. 9.35am Parade moves off, 9.40am civic dignitaries move off to meet parade. 9.50am Arrive at Keighley Shared Parish Church. 10.35am Parade to Town Hall Square. 10.50am Prayers and Act of Remembrance. 11am two minute silence. 11.45am parade moves off.
Silsden
Parade departs at 10.45am from Wesley Place to the Cenotaph in the Memorial Gardens in Silsden; 11am Service of Remembrance and wreath laying ceremony at the Cenotaph.
Steeton with Eastburn
10am Joint Service of Remembrance at St Stephen's Church, St Stephen's Road, Steeton. 10.50am Wreath laying ceremony at Steeton War Memorial, followed by two minutes' silence. Refreshments will be served at the end of the event in St Stephen's Church Hall.
Oakworth
10.45am Service of Remembrance and wreath laying ceremony at the War Memorial in Oakworth Park.
Crossroads / Lees / Bocking
9.30am All Age Service of Remembrance St James Church, Haworth Road, Crossroads followed by wreath laying ceremony at the War Memorial in Cross Roads Park at 10.50am.
Haworth
9.30am Traditional Service of Remembrance with Holy Communion at St Michael's Church, Haworth. 10.50am major service at Haworth War Memorial.