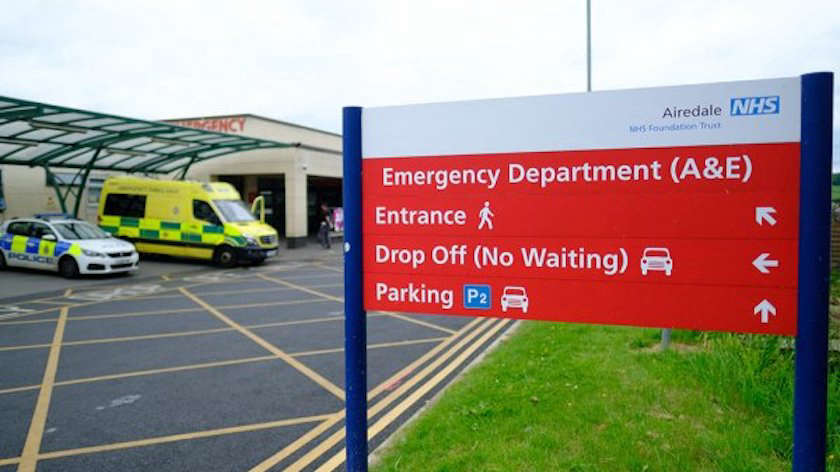 The government has been urged by a North Yorkshire County Council committee to invest millions of pounds to replace the ageing Airedale Hospital buildings.
The scrutiny of health committee has written to the Secretary of State for Health voicing its concerns over the ongoing maintenance and development of Airedale.
At its recent meeting, the committee pledged its unanimous support to the Airedale NHS Foundation Trust in its hope of securing funding to rebuild the hospital.
Members were updated by a representative of the NHS trust and reminded that the existing hospital is one of a small number in the UK that were built in the late 1960s and is currently experiencing severe structural problems. This is due to it being constructed almost entirely of a reinforced autoclaved aerated concrete (RAAC) called 'Siporex'. Structural engineers have advised that Airedale General Hospital should be replaced as soon as possible and no later than 2030.
The committee is calling for the Government's New Hospital Programme (NHP), to which a formal expression of interest was made in summer 2021, to secure one of the remaining places on the programme. With just seven years to go until the 2030 date advised by structural engineers, there is now an urgent need to secure funding for a new hospital.
The chairman of the scrutiny of health committee, Cllr Andrew Lee, said: "Airedale Hospital is one of several hospitals built in the late 1960s and early 1970s that has this form of concrete throughout its structure and yet it is the only one that is not automatically receiving Government funding for a rebuild. Additionally, it is the only hospital in the country to have floors made of RAAC in addition to the more common RAAC roof and walls, and the only hospital to have identified structural deficiencies in the main structural frame of the building. This hospital serves a population of 220,000 across 700 square miles of the Bradford district and Craven, and parts of East Lancashire and North Yorkshire."
The committee and county councillors in the Craven and Richmondshire areas are concerned that, should the funding not be awarded through the competitive process, the hospital will face mounting repair costs and an uncertain future as problems with the structure continue to increase over time.
"The committee and I fully appreciate that the country faces huge financial challenges at present, but the investment of capital funding to support the long-term future of the Airedale Hospital, as has been done for other hospitals in a similar situation, is desperately needed," said Cllr Lee.
"Any reduction in service at the site due to problems with the existing structure would be hard felt by those people in the Yorkshire Dales and further afield that rely on this district general hospital for accessible routine and emergency procedures."
Representatives from Airedale NHS Foundation Trust are due to give members of the Skipton and Ripon Area Constituency Committee an update at their next meeting in March.