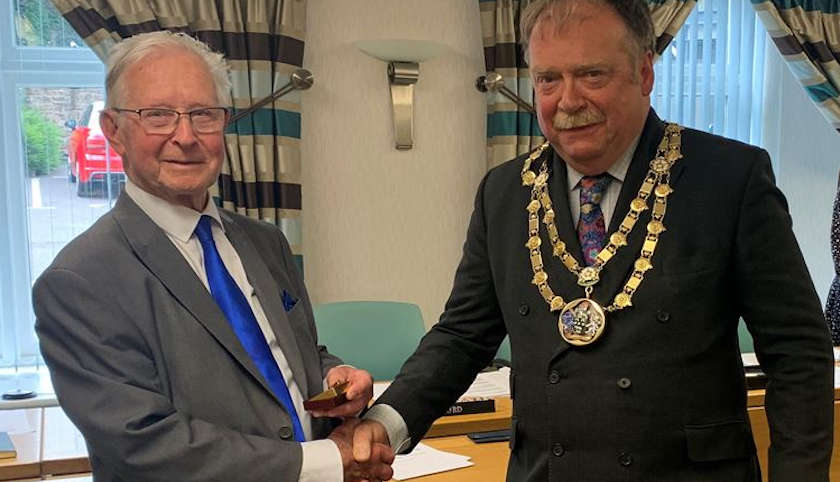 Conservative councillor Simon Myers has been elected as the last chairman of Craven District Council.
Councillor Myers – who represents Gargrave and Malhamdale – said he was "honoured" to take on the role ahead of the council being replaced by a new unitary authority covering the whole of North Yorkshire from next April.
He has taken over from councillor Alan Sutcliffe who served as chair for the past 12 months.
Speaking at a meeting on Tuesday, councillor Myers said: "It's a bittersweet moment to become the last chairman of Craven District Council. We are all fond of this council.
"In this last year, it will be the last opportunity we have as a district to honour all the good people of Craven.
"So, it's a very mixed emotion for all of us to face the last year of this council.
"I will do my best for you and for the residents of Craven."
Councillor Myers – who is an antiques dealer and former criminal barrister – first joined the district council in 2011.
Earlier this month, he was elected to represent the Mid Craven division on the new North Yorkshire Council. He has also since been given an executive role on the new council with responsibility for growth, culture, leisure, sport and housing.
His chosen charity as district council chairman is the Two Ridings Community Foundation which provides funding for community groups and projects.
Meanwhile, Labour councillor Chris Rose was elected as vice-chair of the district council at Tuesday's meeting.
District council leader Richard Foster also reshuffled his top team with councillor Linda Brockbank becoming lead member for planning.
She has stepped down as chair of the planning committee – a role which has been taken on by councillor Carl Lis.
Councillor Lis was previously lead member for Greener Craven. That position is now the responsibility of councillor Chris Moorby who has also been promoted from vice-chair to chair of the licensing committee.