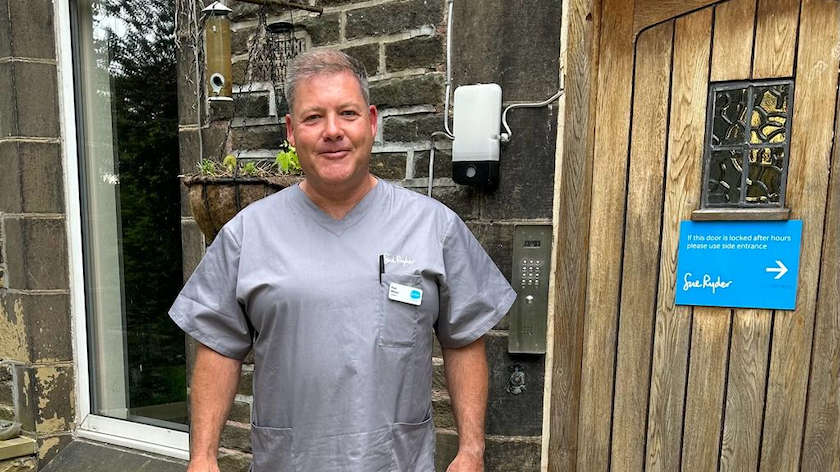 A man from Cowling who was inspired to volunteer following the pandemic has spoken of the 'rewarding' time he spends supporting people at Manorlands Hospice.
Paul Wilson has been sharing his experiences as part of Volunteers Week (1st to 7th June). He became a volunteer vaccinator with St John Ambulance during the coronavirus pandemic and was then inspired to find another volunteering role.
"I vaccinated approximately 3,500 people with both Covid vaccines and flu vaccines," explained Paul. "So, when the programme finished in March 2023, I was keen to find another patient-facing role."
Paul, 56, contacted Sue Ryder Manorlands Hospice and has been volunteering at the inpatient unit in Oxenhope for two days a week since April.
He said: "Initially my role involved taking drinks around to the patients who are staying in the hospice, but in addition, I am now using my experience gained in over 27 years in the chemical industry to assist with task-based risk assessments and local health and safety and security support."
Paul hopes that by sharing his experience, he can encourage others to consider volunteering for the hospice.
"I find the role very rewarding, and I work with some very friendly and caring people who have welcomed me into the team. I particularly enjoy the interaction with patients, and I've had some great conversations with them. I feel appreciated and privileged to be part of their time at the hospice.
"If you have some spare time then I would definitely recommend volunteering as it is very rewarding, but also provides essential additional resource to the charity."
Sue Ryder Manorlands Hospice currently has a number of volunteer roles available, including weekend volunteer receptionists.
Andy Longden, Volunteer Coordinator, said: "We are so grateful to Paul and all our team of volunteers who donate their time and skills so willingly.
"However, we are always in need of more wonderful individuals and would love to hear from anyone who is interested in volunteering, particularly covering weekend shifts on our reception. All of our roles are flexible and play a part in helping us to provide the expert and compassionate care we are so well known for."
To find out more about volunteering opportunities visit sueryder.org/volunteer or email andy.longden@sueryder.org.