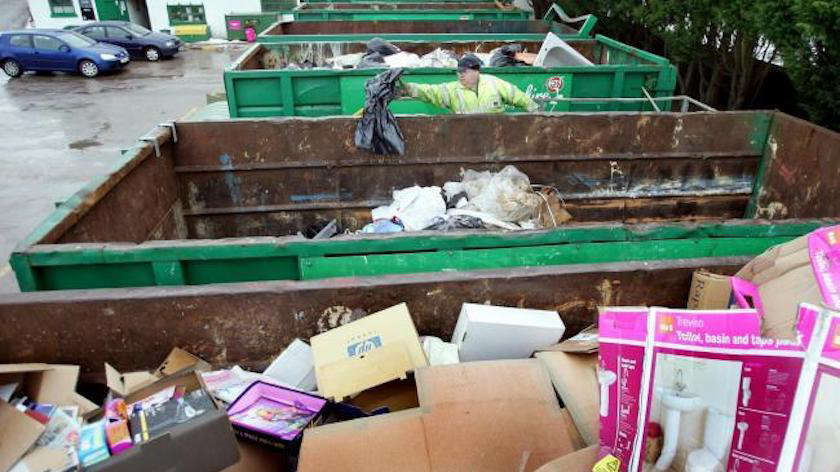 Councillors believe 'awkward' rules set by North Yorkshire County Council at its tips are leading to more people dumping their waste in secluded spots in Craven
There are two household waste recycling centres in the district - at Sowarth Field Industrial Estate in Settle and at Skibeden near Skipton.
Residents can drop off most types of household waste there for for free, but in an attempt to reduce the amount of trade or commercial waste it deals with, anyone entering with a van must register with NYCC to receive a pass.
At a Craven District Council meeting, councillors discussed a report that said 24 fly-tipping incidents were reported in the second quarter of 2022, a figure that had almost doubled since the first three months of last year.
Conservative council leader Richard Foster told councillors that NYCC would soon introduce stricter rules at its tips to effectively ban people with vans from entering, even if they had permission previously, because the system is being exploited.
Cllr Foster said the increase in fly-tipping is "probably down to the tip getting more awkward with people".
Peter Madeley, Labour party councillor for Skipton West, said he believes the rules for vans are exacerbating the fly-tipping problem. He said: "Saying you can't go in a van, why not? What difference does it make? It's waste and the proportion that's turned away by the tip will be tipped in lay-bys. It's such a vast county so it's an easy thing to do."
Robert Heseltine, independent councillor for Skipton East and South, said he has permission to use his van to take bulky items from elderly people in Skipton. However, Cllr Foster told him that he would soon have to stop.
Cllr Foster said: "All commercial vehicles will have to go to weigh bridge to prevent people doing what you're doing —taking other people's waste to the tip.
"Even if you're Good-Samaritaning it, or taking your brother's or your mother's or building a bathroom at the weekend, they don't want you to do that. The exemption is going.
"There's a cost for North Yorkshire. It costs them to dispose it and they [household waste recycling centres] shouldn't take trade waste. There used to be a thing where if you went too often you'd get collared, but that's gone out of the window."