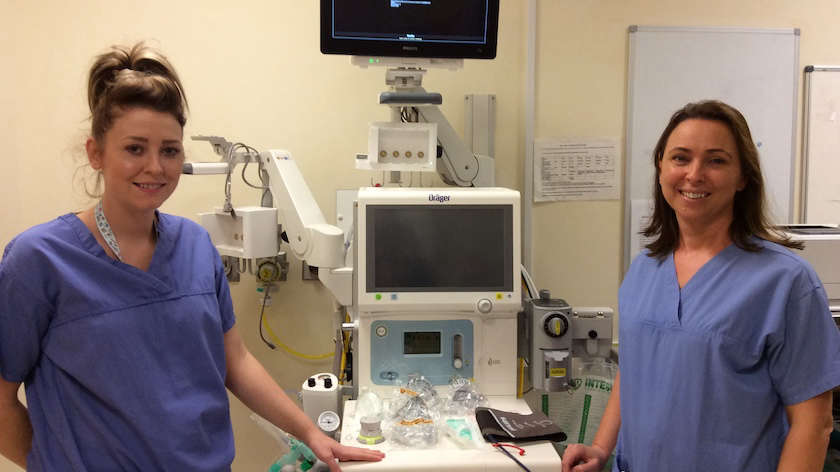 Two former health care support workers from Skipton and Keighley have completed a training programme to qualify as operation department practitioners at Airedale Hospital.
After enrolling in September 2019, Katie Scargill and Jade Callaway did much of their training during the pandemic - including working in the operating theatres alongside studies at Bolton University.
Both had started working at Airedale as health care support workers before beginning their training and are now fully qualified operation department practitioners (ODPs).
Dean Harness, Practice Development Lead at Airedale NHS Foundation Trust says: "It's a really great achievement because they had to work throughout the pandemic. Lots of universities removed their students from hospitals but Bolton University continued with the students in practice and although it interrupted the training they actually got a whole new dynamic of working through a pandemic.
"Although they were new apprentice ODPs they actually stepped up to be essential and valuable members of the team during that period."
Operating Department Practitioners work in three key areas - anaesthetics, surgery and recovery. In anaesthetics the role involves assisting the anaesthetist during general and local anaesthetics. In surgery they will participate as part of the operative team, meeting a variety of patients from very small children to older adults and perform a number of roles, including the scrubbed role. In recovery the ODP will receive, assess and deliver patient care on the patient's arrival into the recovery area. They will monitor the patient, providing appropriate interventions and treatment until the patient has recovered from the effects of the anaesthesia and/or surgery and is stable.
Katie Scargill from Skipton says: "We were really fortunate because we were the only two in our cohort who could actually stay as trainees, the other apprentices went back to being support workers in their hospitals, whereas we were allowed to continue learning at Airedale as ODPs.
"I just love working in theatres, it's about making a difference to a patient's peri-operative journey and how they experience it, if I can make a small but positive difference then I've had a good day."
Jade Callaway from the Long Lee area of Keighley says: "I was happy to be able to step up, put the mask on and help patients. All the team were so supportive of us and every day is a learning day, so it's always something new.
"All of it is so rewarding, at the end of it you get people that say thank you, but it's just my job, but it's nice that they recognise that."
Due to the success of the apprenticeship programme another seven students are now following in Jade and Katie's footsteps. ODPs are now also employed in other areas of Airedale Hospital including critical care, the Emergency Department and the cardiac catheter laboratory.
Karen Taylor, Clinical Governance Manager for Theatres at Airedale NHS Foundation Trust says: "The ODPs are an incredibly skilled practitioner as they can cover the three roles specific to theatre, they can assist in anaesthetics, they can scrub and they can work in recovery. So from our perspective we have this amazing generic worker who can move around different areas very confidently and competently. We're very proud of them."