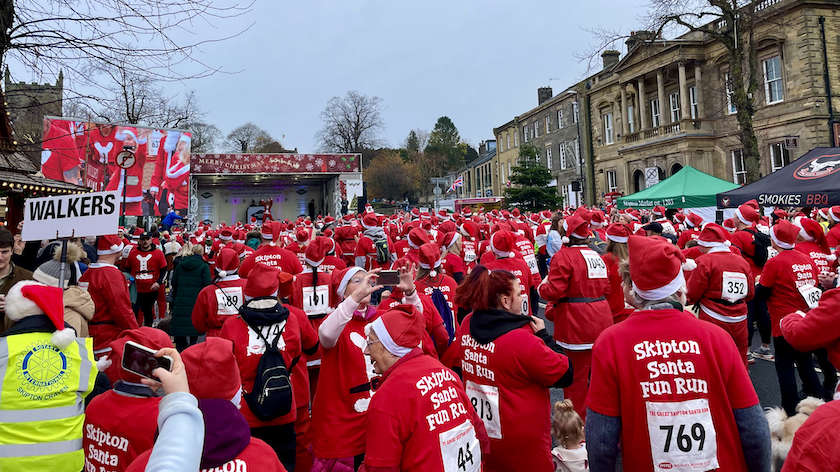 This Sunday will be a busy day for Mary Wild from Skipton, as the 91 year old takes part in the Great Skipton Santa Fun Run then flicks the switch to light up the town's Christmas lights.
She'll join more than 1,500 runners, joggers, walkers, wheelchairs and pushchairs for her 9th time round the Santa Fun Run course on Sunday morning, as the race gets underway on the High street at 11am.
Mary is again raising money to support Sue Ryder Manorlands Hospice and has already smashed her £850 fundraising target.
On her Just Giving page, she says: "This is my 9th year of taking part in The Great Skipton Santa Fun Run and I would like to use the opportunity to raise some much needed funds for Sue Ryder Manorlands. Please help me by giving what you can, any amount will help."
After the Santa Fun Run - organised by the Rotary Club of Skipton Craven - there will be a whole day of festive fun and entertainment with Rombalds Radio hosting the music and dancing on the main stage outside Skipton Town Hall.
Then Mrs Wild will be back, fresh from her 5km walk, to turn on the Christmas lights along with Santa and his elves at 5pm. She has been selected as this year's guest of honour because of her long-standing support for the Santa Fun Run and raising money for its local charities.
If you're taking part in the Great Skipton Santa Fun Run, let us know in the comments on our Facebook post to get a Santa Shout Out on Rombalds Radio this Friday, and be in with a chance of winning an Alexa smartspeaker!