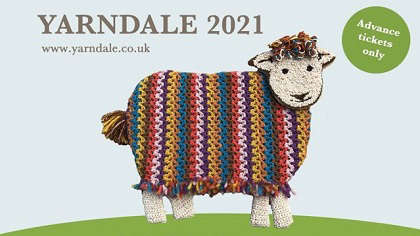 The Yarndale team has confirmed that this year's Yarndale festival will take place at Skipton Auction Mart on 25 and 26 September.
The uncertainty about lifting government restrictions and the lack of a Covid cancellation insurance scheme has been making the organization of the event very difficult but the team is planning for the festival to be held in person and are following all current social distancing measures in order to deliver a Covid safe show.
Following the success of last year's Yarndale@Home which took the festival online to a digital audience, the team is also planning to include a virtual element alongside this year's traditional event to make Yarndale as inclusive and accessible to everyone as possible.
Carole Rennison from the Yarndale team says: "We know that so many people are hoping to be able to visit Yarndale in Skipton this year and we didn't want to disappoint them. At the same time, we want to support our amazing exhibitors and encourage everyone to support their local independent businesses who have all experienced challenging times recently. We are currently working out all the logistical details of the weekend and carefully considering all the measures necessary to run the show safely with the health and wellbeing of our visitors and everyone involved our number one priority.
We're looking forward to introducing an online element to the event as well so that as many people as possible have the opportunity to enjoy the Yarndale experience."
The team is reaching out to any new exhibitors or tutors who would like to take part in the show and are particularly encouraging applications from currently underrepresented groups. The deadline for all applications is Friday 9th July and all the details can be found on the Yarndale website.
Tickets for Yarndale 2021 will be going on sale on Friday 23rd July and are available in advance only via the Yarndale website.
Readers are being encouraged to sign up to the Yarndale newsletter for all the latest news and details about the event: www.yarndale.co.uk