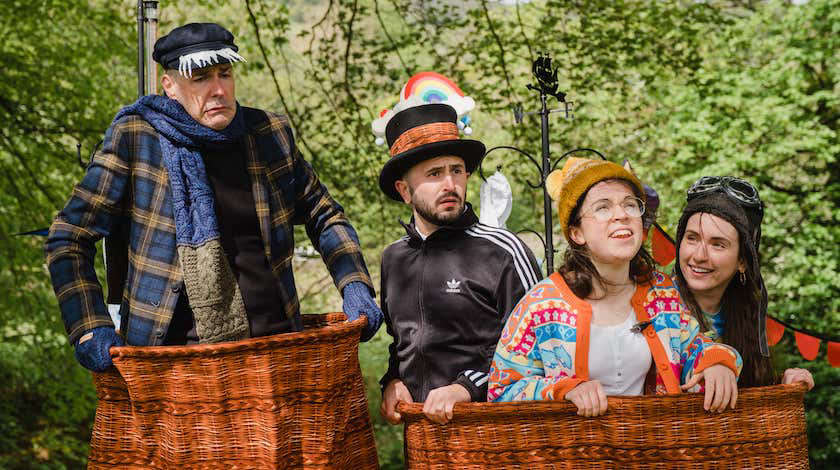 A Yorkshire-based theatre company is bringing a production about the nation's obsession with the weather to Skipton's Aireville Park next month.
Red Sky At Night will be performed in Aireville Park on Sunday 10th July at 3pm by Mikron Theatre company, which is celebrating its 50th anniversary this year.
Through the chronicles of history, people have gazed up and marvelled at the mysteries of the weather. Generations have tried to master the elements and understand the magic of the skies. Hayley's sunny, beloved dad was the nation's favourite weatherman. He could make a typhoon sound like a tickle. Hayley is now following in his footsteps, to join the ranks of the forecasting fraternity. Or at least, local shoestring teatime telly.
When the pressure drops and dark clouds gather, Hayley is melting faster than a lonely snowflake. She's seen the future's forecast, but will anyone listen?
Playwright Lindsay Rodden said: "Through an incredible half-a-century, whatever the weather, Mikron have travelled the country, chronicling our histories, our struggles, our passions and our lives. I am over the moon to write just one of these stories, and say Happy Birthday Mikron, fighting fit and fifty years young!"
The production's cast will feature Thomas Cotran, Alice McKenna, James McLean and newcomer Hannah Bainbridge.
Red Sky At Night is directed by Artistic Director Marianne McNamara and designed by Celia Perkins, with music composed by Sonum Batra and musically directed and arranged by Rebekah Hughes.
Mikron - which is based in Marsden near Huddersfield - has toured 66 productions over the last 50 years, with many of the trips done by narrowboat on the canal. They've played in places that other theatre companies wouldn't dream of - a play about growing-your-own on an allotment; a play about bees performed next to hives, a play about fish and chips to audiences in a fish and chip restaurant, as well as plays about hostelling performed in YHA Youth hostels and the RNLI, performed at several Lifeboat Stations around the UK.
Red Sky at Night will be touring nationally until 22nd October and comes to Skipton on 10th July. No tickets are required and there's a 'pay what you feel' collection at the end of the performance. You can watch a trailer below...