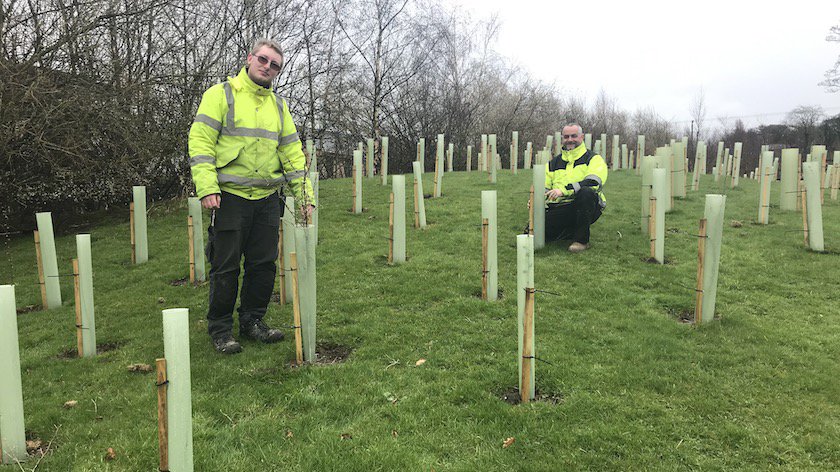 A new 'Edible Airedale' project to create a food forest in the grounds of Airedale Hospital has been completed, with 2,650 fruit trees planted.
The idea came from joint talks between Airedale Hospital & Community Charity and YORgreencic as part of Airedale's 50th year celebrations, with the aim of further enhancing the grounds, and the project has also involved the environmental charity Trees for Cities.
Cherry, apple, hazel, bullace and sloe trees have been planted, including some more unusual species for the Aire valley such as sea buckthorn. All the species have edible fruits or berries used for juices, jellies and purees - providing a source of free local food to be utilised by the hospital kitchens or other health food initiatives locally.
The food forest further enhances the networks of green landscape at Airedale Hospital, supporting wildlife, habitat creation and carbon sequestration. By integrating more natural habitats and edible landscapes, it will help to improve air-quality and mitigate carbon emissions. Mechanical maintenance costs are also reduced, with intentions to encourage voluntary harvesting and management.
At the same time, the project will bring health, social and environmental benefits to patients, staff and the local community. Research suggests green space and natural surroundings have beneficial effects for recuperation and wellbeing, reducing stress and nurturing overall mental health. The hospital grounds are an important leisure resource, providing peaceful settings for all.
YORgreencic, a community interest company based in Keighley, has organised the planting scheme with assistance and full support from the Hospital Grounds and Security Team.
Shaun O'Hare from YORgreencic says: "We support communities to create and manage green space through multi-functional land use. The food forest helps us achieve our primary purpose to increase woodland cover in the region with the right tree species, at the right ratio, in the right place.
"Airedale Hospital has always been very aware of the value and benefits of green space - particularly for wellbeing and wildlife and that is demonstrated in the hospitals investment in the grounds.
"The reaction from passers-by has been very positive, from those who enjoy looking at trees, to the hardened horticulturist; all recognise the benefits of networks of green spaces with our rivers and canals corridors. It helps to create places where people want to live, and the interest has been so high that we are planning to arrange community activity days including guided walks and tree talks."
Funding for the project was secured by Trees for Cities, a UK charity working to improve lives and revitalise forgotten spaces by planting trees in cities. Working in partnership with YORgreencic in this case, Trees for Cities gets stuck in with local communities to cultivate lasting change in neighbourhoods, aiming to get people excited about growing, foraging and eating healthy food for todays and future generations.
The funding comes from The Prince of Wales's Charitable Fund, which is fitting given the hospital was opened by Prince Charles in 1970 and last year staff received a special video message from HRH the Prince of Wales himself, thanking them for their work in the pandemic.
Steve Marshall, Head Gardner at Airedale Hospital says: "This project will benefit so many people. It provides a picturesque and tranquil area for staff, patients and visitors to enjoy and also the wider community because the site is publicly accessible. There are positive opportunities to help our wildlife population grow whilst helping to shelter and feed animals.
"I'm really looking forward to seeing the trees grow and develop with all their fruits and colours and seeing how much enjoyment the project brings to people."
David Elliott, Chief Executive of Trees for Cities, said: "We are very proud to be delivering the multiple benefits of urban trees for Airedale Hospital and the local community. These new trees funded by The Prince of Wales's Charitable Fund will play an essential role in supporting staff and patients' mental health and wellbeing, tackling poor air quality and creating a greener, happier, and healthier environment for today's and future generations."
Picuture above shows Sam Barlow, Apprentice Gardener and Steve Marshall, Head Gardener from Airedale NHS Foundation Trust.