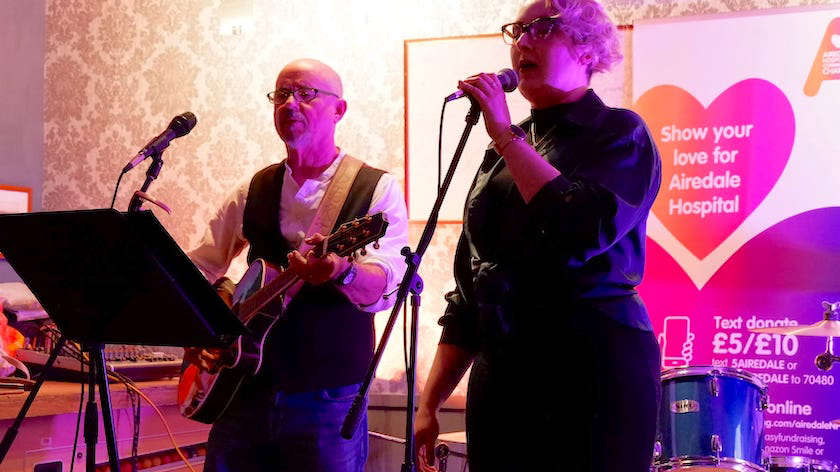 The 'Goatbury' music festival at Steeton's Goat's Head pub has raised £1500 for the special care baby unit at nearby Airedale Hospital.
The event in September saw 17 acts perform throughout the day, including Loud Minority Samba Band, Sharron Clues, Peter Hoyle, Wal van Browne and David Phillips, Connor Walmsley, Jo Pybus, Tony Peek, Kathryn Longbottom, Kirsty Brannan, Dan McGlade, Farrafeld, Blair Mitchell, Cassia Sauer, Ian Wildman, Screams of Youth, Chris George Band and Casino Havana. There was also street food, a tombola, raffle and other entertainment, and David Hanson did a sponsored walk from Leeds to Steeton on the day of the event to raise further funds.
The Neonatal Unit at Airedale provides care for babies who need special observation, monitoring, investigations, and treatments. Babies may stay on the unit for only a few hours or up to 16 weeks depending on their age and how much care they need.
Mike Burtoft, one of the event organisers, said: "Goatbury 2022 was a huge success! It was a brilliant effort from everyone, but it could only be achieved by the fabulous team from the Goat's Head opening their hearts and giving us the stage to play for their lovely customers.
"My humble thanks must go first and foremost to Scott and Rebecca for providing their wonderful venue and organising so much for the event."
Jodie Hearnshaw, manager at Airedale Hospital and Community Charity, said: "We are so grateful to Mike, the team and customers from the Goat's Head for organising such a fabulous event to support Airedale Hospital and Community Charity and specifically the Neonatal Unit.
"The team from the Neonatal Unit will use the funds to enhance experiences for babies and their families that use their services."