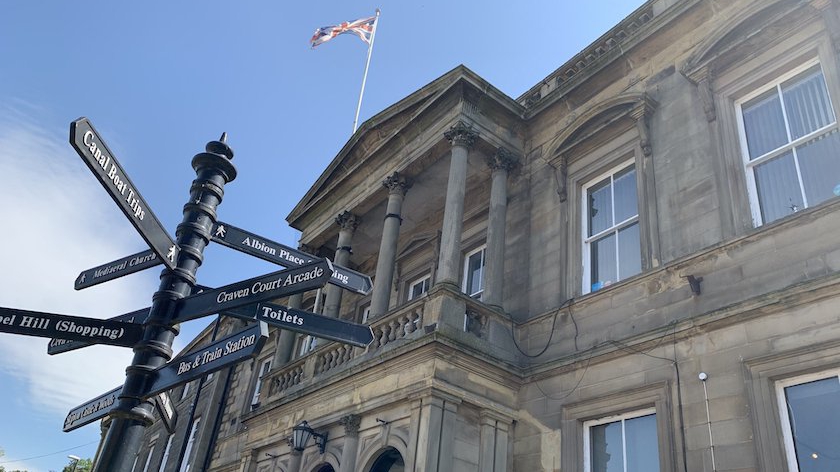 Skipton Town Hall will reopen on 21st June after the completion of a major restoration and redevelopment project costing £4.7 million.
The work has taken around two years to complete and has included structural restoration as well as re-fitting of the Craven Museum, concert hall, exhibition gallery and tourist information centre.
Officials say it has been "transformed into a 21st century Cultural Hub for our local communities and visitors to the area". New facilities include an Education Room, Museum Research Office, Meeting Rooms and accessible Changing Places Toilet.
Subject to the Covid-19 roadmap going to plan, free timed tickets for the museum and gallery will be available to book online from 1st June ahead of the reopening three weeks later.
A new gallery shop will also be opening, offering a 'carefully curated collection of locally produced crafts, books, homeware and souvenirs'.
Booking has started for the first programme of performances and events via https://www.ticketsource.co.uk/skipton-town-hall. All performances will be pre-booked and socially distanced.
One of the first events will be the Skipton Town Hall Tea Dance which returns on the afternoon of Tuesday 22nd June. The popular Friday films will also return.
Friday 25th June will see the first live theatre performance in the new hall, with 'Yours Sincerely' performed by Quick Duck Theatre.
The first exhibition in the Gallery will be 'Celebrate' - this will mark the reopening of the building and will also be a celebration by, for and with the people of Craven, with many residents contributing to the display.
Danielle Daglan, Cultural Services Manager at Craven District Council, said: "We are incredibly excited to be opening our doors again after the major redevelopment! It's been a long slog and with a pandemic thrown in to contend with on top of the usual challenges of renovating an historic building, but we're almost there now.
"We can't wait for people to be able to see the results of all the hard work that's been going on behind the scenes. The Museum is being completely transformed, and we're developing an amazing programme of performances and events.
"If the Government's roadmap goes to plan, by June 21st we should be free from lockdown restrictions, but we are taking a sensible approach to our reopening plans and incorporating a level of Covid-safety measures to help our returning and new visitors feel safe. We're asking people to pre-book Museum and Gallery visits online, along with performance bookings."
The work to redevelop Skipton Town Hall was mainly funded by Craven District Council, which put in £3 million to the project. £1.5m came from the National Lottery Heritage Fund and around £180,000 from the High Street Heritage Action Zone. There was also a £250,000 grant from the Arts Council to help with the upgrading of equipment in the concert hall.