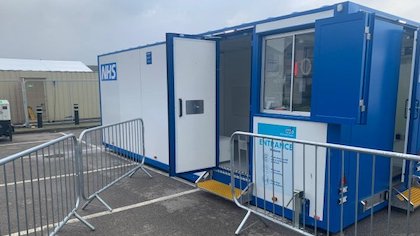 North Yorkshire County Council has announced the roll-out of permanent coronavirus testing facilities, with Skipton's due to open in the coming weeks.
There are already similar venues in Harrogate and Scarborough, but the council says it is working with partners Serco and Sodexo to also provide walk-in test centres in Northallerton, Selby and Skipton.
A permanent site is already up and running at Victoria Hall in Keighley, which is in Skipton's neighbouring Bradford district.
Mobile Covid-19 testing units have previously visited Skipton most weeks and have been in the car park off Coach Street in the town.
The new local testing site in Skipton - at an as yet unconfirmed location - will be open seven days a week 8am-8pm and will require an appointment to be booked in advance.
Richard Flinton, chair of North Yorkshire Local Resilience Forum (NYLRF), said: "It is great news for the county that these permanent sites are now available to our residents and more are planned. It means there is more capacity for testing and therefore more control over the spread of this virus.
"These sites allows us to place our mobile testing units in other areas that need them the most, allowing more people the opportunity to book a test. With the bad weather starting and the temperatures dropping, the indoor sites will offer the staff on site a warm and dry place to undertake the testing.
"The new local testing sites are secure facilities that allow those without a vehicle to be tested quickly, giving them more choice and being more accessible to all residents. Collectively, we can make a difference and help to bring about considerably reduced rates of coronavirus infection.
"We urge people to self-isolate from the onset of symptoms or from when being instructed to by the NHS test and trace service and continue to self-isolate while waiting for a test result. Details of support for residents in self-isolation can be found on our website."