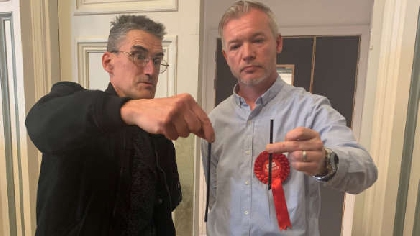 Independent candidate Andy Solloway has been elected to the new North Yorkshire Council following a drawing of straws after he and another candidate received the same number of votes.
Andy will represent Skipton West and West Craven on the new unitary local authority when it takes over from Craven District Council next year.
Both he and Labour's Peter Madeley polled 503 votes in the ward, with Patrick Mulligan a close third on 501 votes.
After a re-count the tie was confirmed, with Andy going on to draw the longest straw to be elected to the council.
Fellow Labour candidate Brian McDaid (pictured) stood in for Peter Madeley in the drawing of straws.
You can see all the local election results for our area at https://www.rombaldsradio.com/news/featured-stories/local-election-results-2022/
Independent Andy Solloway has been declared winner in the Skipton West & West Craven ward after pulling the longest straw! Despite a recount, he and Labour's Peter Madeley both drew 503 votes. Patrick Mulligan, Conservative, 501. Claire Nash, Green, 166. pic.twitter.com/ldDKQvDPqF

— Craven Council (@CravenCouncil) May 6, 2022