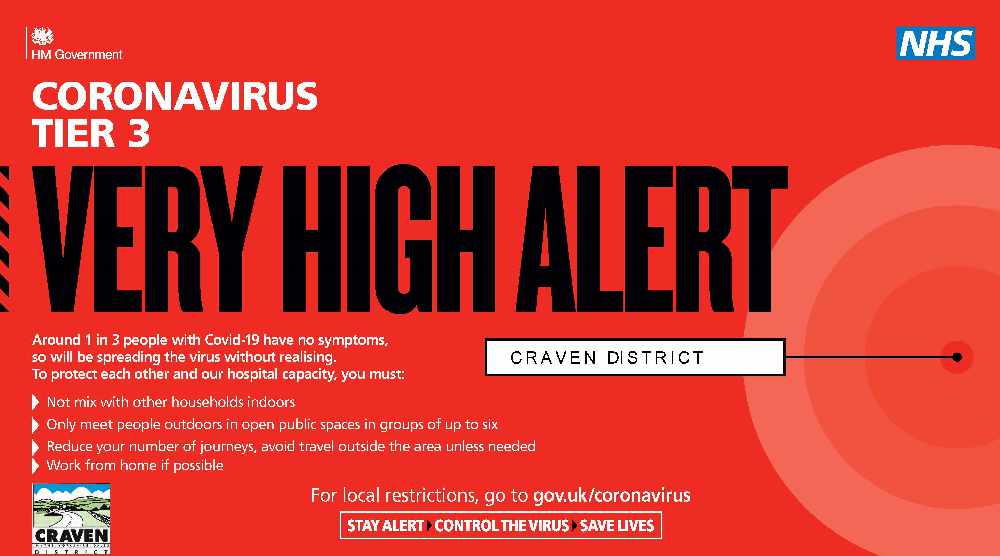 North Yorkshire is joining West Yorkshire as a Very High Alert Tier 3 area from midnight on Thursday 31st December 2020.
Hospitality venues have to close except for takeaways from midnight tonight (31st December) in Skipton and the rest of North Yorkshire as the county moves up from Tier 2 to Tier 3.
The Very High Alert level - which has already been in place in the neighbouring Bradford district - means that you must not mix with other households indoors and only groups of up to 6 can meet outdoors in open public spaces.
Restaurants and pubs have been allowed to open through December in Tier 2 as long as they are serving food, but under Tier 3 will have to close. Takeaways can still be provided.
Retailers are permitted to remain open under Tier 3. The change means that residents close to the border would now be permitted to move from the Bradford district to Craven for shopping as both areas are in the same Tier.
See the full Tier 3 rules which now apply across Skipton, Keighley and Ilkley.
Meanwhile, Lancashire will enter Tier 4 from 31st December - meaning all non-essential shops there have to close.
Reaction from Bradford Council
Councillor Susan Hinchcliffe, Leader of Bradford Council, said: "The Government has announced today that Bradford District will stay in Very High (Tier 3) restrictions. I want to thank everyone in the district for all you are doing to keep the infection rate down.
"The new variant of COVID-19 is however even more infectious and is already in the district. I urge everyone to continue to follow the guidelines rigorously. We know just how quickly this virus can spread. The easing of restrictions that the Government allowed over the Christmas period could cause the infection rates to rise again. We all know people who have died before their time or been seriously ill with this virus. None of us want to go back to high levels of infection, it is so distressing for our communities and puts our hospitals under tremendous strain.
"Please don't travel outside the Bradford District unless it's essential. Many areas outside our boundaries have faster rising rates of infection and by reducing non essential journeys we reduce the risk of potentially bringing and spreading the virus further. For all our sakes please wash your hands regularly, wear a face covering and stay 2 metres apart.
"If we can keep going with the Hands, Face, Space guidance until the roll out of the vaccine then we will prevent more deaths and can return to a more normal life in 2021."