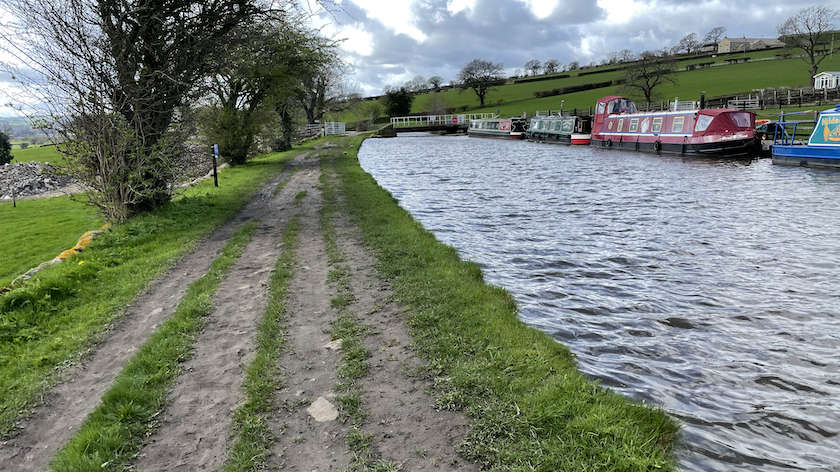 There's no sign of improvements being carried out to the Leeds-Liverpool canal towpath between Silsden and Kildwick after the project missed out on being allocated funding.
This week, Active Travel England announced areas that would benefit from the latest round of funding to get more people walking and cycling.
But the Bradford district will receive just £1m from a £23m grant awarded to the West Yorkshire Combined Authority, with one Councillor describing the outcome as "not close to being good enough."
Questions have also been raised about why so much of the investment was being funnelled towards Leeds – an area that already has an impressive amount of cycling infrastructure.
The stretch of towpath on the Leeds-Liverpool canal between Silsden and Kildwick also missed out on funding last June, when it was turned down by the Active Travel Fund. Other parts have been upgraded over recent years, including a £2 million project to improve stretches between Skipton and Gargrave, and Bradley and Kildwick. The section in West Yorkshire has also been upgraded, but the work only came as far as the Keighley Road bridge in Silsden, leaving the towpath west of Silsden to Kildwick in a state described by some local residents as 'dangerous'.
While West Yorkshire Combined Authority had asked for over £11m to fund a number of Bradford schemes as part of its bid to the Active Travel Fund, just £1m of the cash awarded to the region was specifically for Bradford projects.
It means schemes such as the extension of a planned cycle route between the city centre and Thornton and improvements to the canal towpath between Silsden and Kildwick missed out on vital funding.
The only Bradford-specific project mentioned in the Combined Authority's announcement of the funding is a scheme to make it easier for people to walk to St Luke's Hospital.
It is estimated around 58 per cent of the funding for all of West Yorkshire was allocated to Leeds.
The Combined Authority had submitted a £36.7m bid to the DfT Active Travel Fund in August to secure further funding to develop cycling and walking schemes within the region.
This bid was made up of numerous projects – including a £8.78m bid for the Thornton Road Phase 2 Scheme which would have seen the cycle and walking route extended further West.
The Authority was awarded £23.12m.
Some of the successful projects included new cycle lanes in Leeds City Centre and work to improve the Huddersfield Broad Canal between Aspley Marina and Cooper Bridge.
Responding to the Active Travel England announcement, Cllr Susan Hinchcliffe, Leader of Bradford Council, said: "Whilst it's good news that West Yorkshire will receive funding to improve its walking and cycling network, I'm hugely disappointed that Active Travel England overlooked the massive opportunities in Bradford district.
"West Yorkshire Combined Authority bid for just over £11 million of funding for the district – most of which would have gone towards extending the Thornton Road cycleway and upgrading the towpath between Silsden and Kildwick – helping to get people out of their cars and having a positive environmental impact."
Leader of the Green Party in Bradford, Councillor Matt Edwards (Tong) said: "It is very disappointing for Bradford District – indeed for West Yorkshire as a whole – that so much of what was meant to be a joint bid is being allocated to Leeds City Centre.
"There has already been a massive investment in active travel funding in Leeds which means Leeds City Centre has some of the best walking and cycling infrastructure in the UK and this award will see even more being spent there. But whilst this is great for Leeds, Bradford and the rest of West Yorkshire is being forgotten about yet again.
"The reality is, of the £23.1 million being allocated for West Yorkshire, only a little over £1million will be spent on Bradford-specific projects.
"It is just not even close to being good enough. What Bradford really need is for our Labour-run council and the Labour mayor of West Yorkshire to start delivering for the whole of our county."
On Friday at a meeting of the Combined Authority's Transport Committee, which Cllr Hinchcliffe is a chair of, she raised her frustration with the grants.
She said: "It is a particular frustration for us in Bradford. When I saw this announcement I immediately asked for a meeting with the chief executive of Active Travel England.
"I don't believe they know the region as well as they should. We decide what the priorities should be, and they decide they know better than us."
She said it was "frustrating" that a national body decided where the money should be spent, suggesting decisions on where the cash goes should be made locally.
Responding to concerns from members that Leeds had received 58 per cent of the new Active Travel funding, Leeds Councillor Helen Hayden said: "We want a levelling up so all our areas get the money we deserve rather than Leeds being criticised for having more than others. I don't want Leeds to get more than other areas – I want us all to get our fair share."