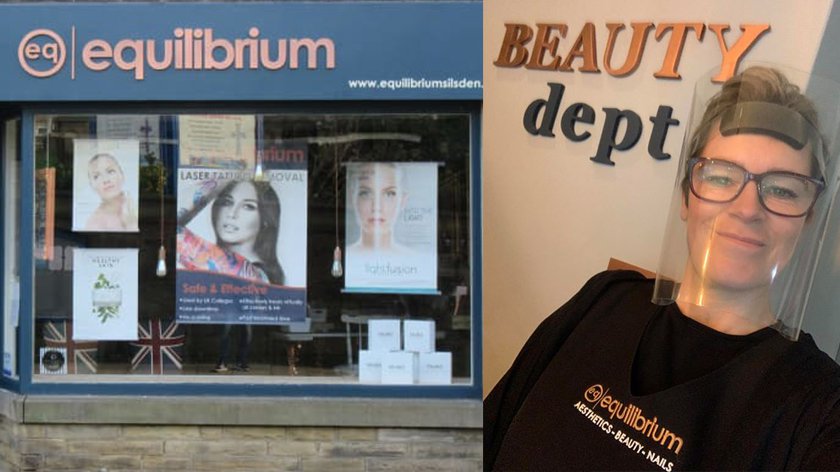 The owner of a local beauty salon says it's still only operating at 30 to 40 percent of capacity because of the ongoing coronavirus restrictions.
Sarah Wilkinson, senior therapist and owner of Equilibrium, has told Rombalds Radio that still not being able to do close-contact treatments on clients' faces is not only impacting businesses in the sector, but the mental health of some local people too.
Beauty clinics in the Bradford district were due to be able to resume full operations from 1st August, but additional local restrictions in place here mean certain procedures can't be carried out, even with staff wearing appropriate PPE.
Sarah told Rombalds Radio: "The beauty industry is fully open in other parts of the country but those areas in localised lockdown aren't, so we're still operating probably on a 30 to 40% capacity what we can offer. Facials, facial waxing, tinting, laser, massage - anything like that - we're not allowed to do anything on the facial area."
Listen to Sarah talking to Rombalds Radio:
Local restrictions in the Bradford district are due to be reviewed again on Friday this week, and local MP Robbie Moore has suggested that areas including Ilkley and Silsden could be taken out of the impacted area because there have been no new Covid-19 cases. Cases continue to be reported meanwhile in the Keighley town area.
If the restrictions continue, Sarah from Equilibrium says it will have a major impact on the mental health of people who normally come for treatments.
"We have quite a mixture of clients that have regular facials but not just for the pleasure of having a facial," she told us. "We have acne clients, we have people who have really impaired skin that needs that boosted treatment in salon. We also have people who are having regular electrolysis for hair removal. And, again, not just a vanity thing - it impacts their mental health and their self-esteem. It's really hard - I feel torn because as therapists, we are people pleasers and we want to help people.
"When I know my clients are suffering because of what's happening, but I can't do anything about it I feel emotionally pulled as well. You can't do what you are trained and qualified - and more than PPE'd up - to do. It's so frustrating."