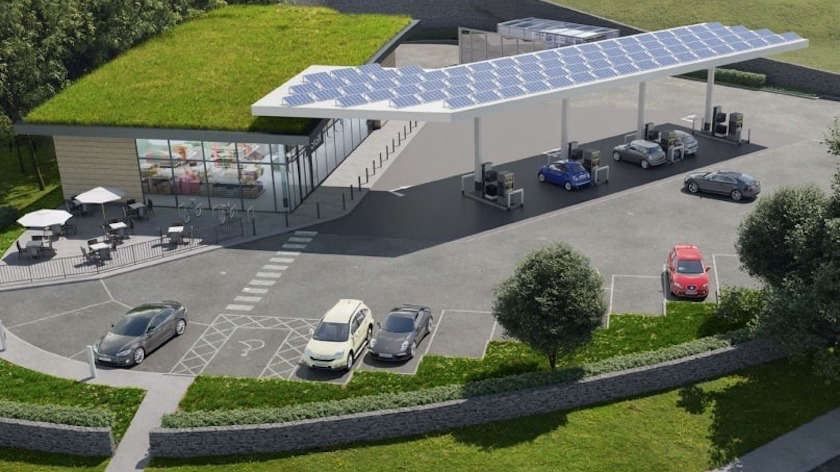 Plans for a new petrol station and EV chargers on the outskirts of Skipton have been recommended for approval.
The proposals for land next to the Gargrave Road roundabout on the A59 include eight filling pumps, three electric charging points and a servicing area as well as retail space.
Craven District Council planners have described the proposals as "acceptable" and asked councillors to vote for approval at a meeting next Monday (3rd October).
This is despite objections from groups including Skipton Civic Society which described the development as "wholly inappropriate".
Stirton with Thorlby Parish Council also questioned the need for the petrol station and raised further concerns over the impact of wildlife at the site which was designated by the council as a protected green space.
In a report to Monday's meeting, the council said there were "exceptional" circumstances to develop the site because it would support local transport infrastructure.
Yet councillor Karen Darvell, chair of Stirton with Thorlby Parish Council, argued that the site should be protected as it is a "key piece of land with a wide range of species".
She said in a letter: "If we don't want an ever enlarging concrete jungle devoid of wildlife, some uncultivated or minimally cultivated green spaces within the development areas must be left untouched.
"Planners in other parts of the UK have now recognised this and are trying to reinstate wildlife corridors, much harder to do retrospectively, so it makes no sense to destroy an existing one."
A total of 22 objections and three letters of support have been made over the plans which were submitted by Brookfield Property Partners last year.
The proposed site is located near Keelham Farm Shop which was built on land previously home to a petrol station and car dealership that closed around 10 years ago.
Skipton Civic Society said the former petrol station was forced to shut as it was no longer commercially viable and that there is "no evidence that a filling station here would work, especially as fossil-fuelled cars are unsustainable and are on their way out".
However, the developers argue there is a "shortage" of roadside service facilities along the A59 and within Skipton more generally.
Brookfield Property Partners also said in documents submitted to the council that the development would create around 10 full time and 12 part time jobs if approved.
The proposals also include access via a new mini-roundabout, 11 customer parking spaces, toilets and an ATM facility.