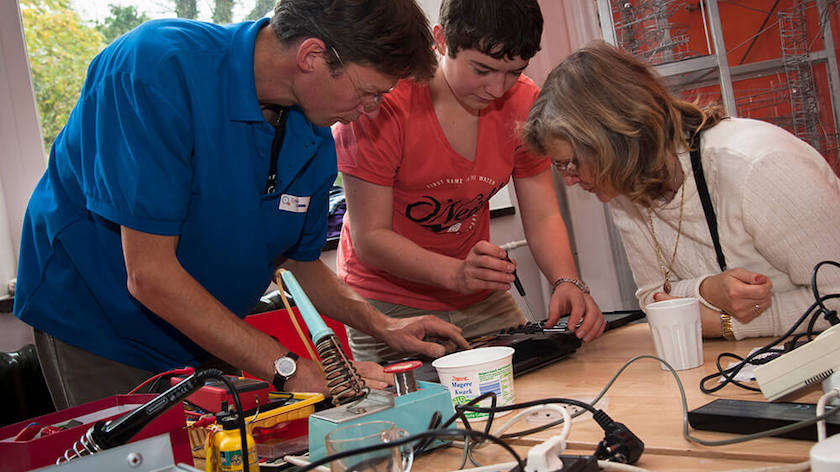 A volunteer-run Repair Café is being started with the first session taking place at Silsden Methodist Church on Saturday 17th June.
The project is being led by Climate Action Silsden, which wants to help reduce mountains of waste by promoting repairs.
On the day, volunteer repair experts will be available between 9.30am and 12noon to help make all possible repairs free of charge. Tools and materials will also be on hand.
People visiting the Repair Café can bring along their broken items from home - everything from toasters, lamps and hair dryers to clothes, toys and crockery. Knives and tools can also be sharpened.
Caroline Whitaker from Climate Action Silsden says: "We throw away piles of stuff in the UK. Even things which practically have nothing wrong with them, and which could easily be used again after a simple repair.
"Unfortunately, many people have forgotten that they can have things repaired. Repair Café wants to change all that."
Repair Café is also meant to put neighbours in touch with each other in a new way and to discover that a lot of know-how and practical skills can be found close to home.
Caroline adds: "Repairs can save money and resources, and can help minimise CO 2 emissions. But above all, Repair Café just wants to show how much fun repairing things can be, and how easy it often is."
The Repair Café concept began in the Netherlands, in 2009, and was formulated by Martine Postma, at the time an Amsterdam-based journalist/publicist. In 2010, she started the Repair Café Foundation, which provides support to local groups around the world wishing to start their own Repair Café. There are currently around 2,700 across the world, with around 260 of those in the UK.
Future Repair Cafés are planned in Silsden for 22nd July, 12th August, 16th September, 21st October and 18th November.
A pop-up refill shop will also be available in Silsden Methodist Church on the same dates, where people can take their own containers to fill with products including washing-up liquid, laundry liquid and fabric conditioner, shampoo, shower gel, conditioner and more.
For further details see the Climate Action Silsden page on Facebook.