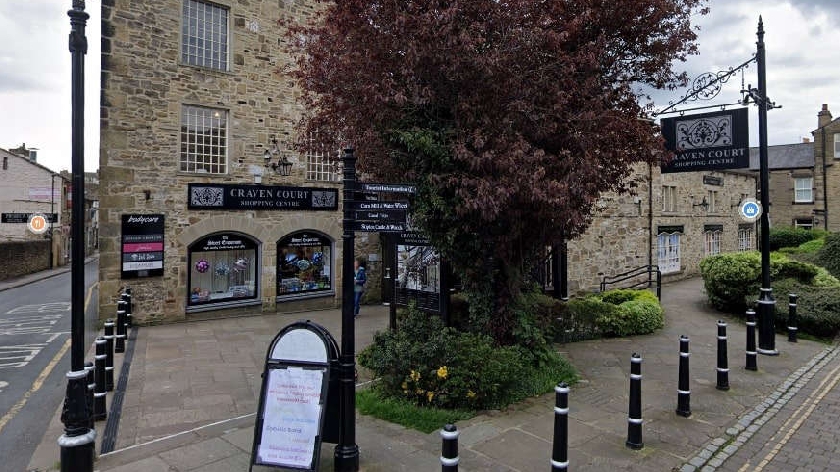 ​​​​​​​New plans to improve the look of streets around Skipton's shopping centre are to be submitted after previous proposals were withdrawn by the district council.
Craven Court was originally developed from a 16th century theatre and boasts listed stone walls, a glass roof and Victorian-themed iron work including a spiral staircase.
However, there have been complaints that these heritage features have been "hidden" by overgrown shrubs in the surrounding streets.
Craven District Council was previously awarded £1.5 million from Historic England to fund an improvement project, and plans including new pavements, seating, cycle parking, and the removal of shrubs and a tree were submitted earlier this year.
The aim is to create a "multifunctional public realm space for community use and events" outside the shopping centre on Otley Street.
These proposals were withdrawn by the council this week, although it said works would continue with a new planning application to be submitted following more talks with stakeholders.
A council spokesperson said: "Following on-going consultation with the owners of Craven Court Shopping Centre, the neighbouring businesses and residents, it was necessary to change the design which meant that the plans submitted as part of the planning application were out-of-date.
"In order to assist consultees in assessing a proposal, it is sometimes advised that the original plans are withdrawn and, if required, a new application is made.
"This is what has happened on this occasion."
The shopping centre opened in 1988 when it was visited by King Charles III. It is now home to 28 stores from national names such as Fat Face and H. Samuel's to small independent retailers.