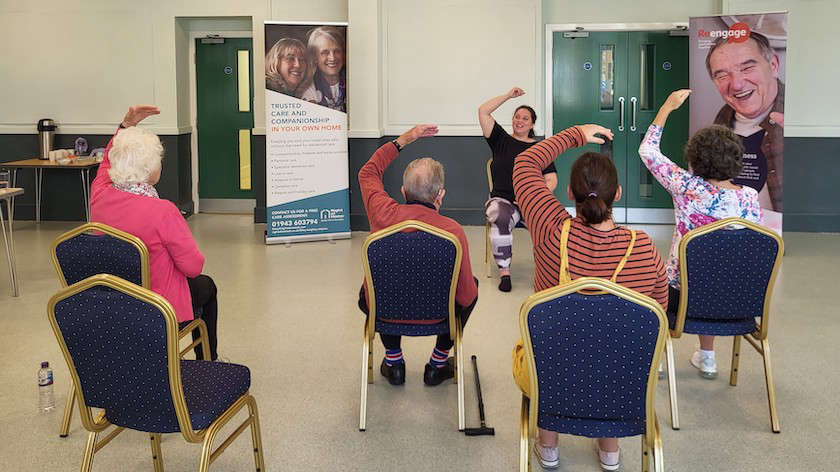 Local care provider Right at Home Ilkley, Keighley & Skipton has partnered up with national charity Re-engage to set up new 'chair yoga' classes in Silsden.
The free monthly sessions are aimed at those aged 75 and over and take place at Silsden Town Hall.
The initiative aims to promote health, wellness, and vitality through the gentle practice of yoga.
As we age, maintaining a healthy lifestyle becomes increasingly vital. The free Chair Yoga classes offers a safe and effective way for older adults to
improve flexibility, balance, and overall well-being, all while seated comfortably.
Participants can look forward to experiencing a blend of soothing and rejuvenating movements, specifically designed to enhance joint mobility and reduce stiffness. The class provides an opportunity for members to socialise after the class over a cuppa and a biscuit.
Paresh Mistry, Managing Director at Right at Home Ilkley, Keighley & Skipton, said: "I am really thrilled to be partnering with Re-engage to bring Chair Yoga to Silsden. These sessions are a great addition in promoting wellbeing within the elderly population in the local area."
Debs Meynell, Engagement Officer at Re-engage, added: "Many older people rarely leave their homes or have anyone to talk to. So these social activities can be a vital lifeline for them. Not only are they benefiting from the gentle exercise but they also have a great opportunity to socialise and make new friends. This initiative will prove invaluable for the older people whose lives are diminished by loneliness and isolation."
The Chair Yoga sessions run on every 4th Monday each month from 10.30am to 12noon at Silsden Town Hall. Interested participants and volunteers can call 0800 716543 to register their interest or submit a form at https://www.reengage.org.uk/join-a-group/social-activity-groups/