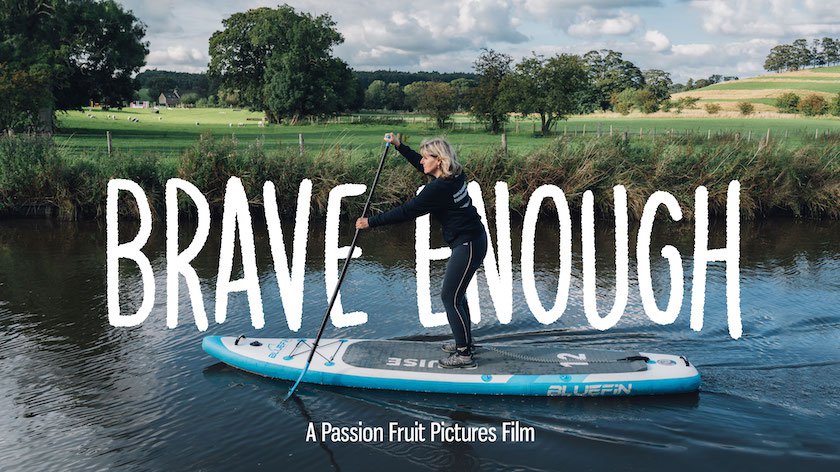 A short film documenting the epic fundraising journey of Embsay's Jo Moseley is to be shown at the Skipton drive-in cinema next week.
Jo did the 162 mile journey from Liverpool to Goole along the Leeds-Liverpool Canal and Aire & Calder Navigation on a paddleboard in Summer 2019. Along the way she picked litter from the canal, and raised money for the surf therapy charity The Wave Project as well as the 2 Minute Beach Clean Foundation.
The 57-minute short film, produced by Frit Tam at Passion Fruit Pictures, chronicles Jo's story starting from what she describes as "a very low point in my life" in 2013 when she found herself "quite literally sobbing in the biscuit aisle of Tesco's in Skipton, overwhelmed, anxious and desperate for a good night's sleep" - to becoming the first woman to paddleboard from coast to coast at the age of 54.
Brave Enough has had a number of online screenings since its release in February, but will be shown on a big screen for the first time on Thursday 15th April at Skipton's first drive-in cinema at Skipton Castle's Bailey Car Park.
Jo told Rombalds Radio: "For me, purpose and courage and joy are all inter-linked. Once you find something that you can feel passionate about trying to make a difference I think it gives your mid-life a whole new meaning and a lot more joy - and you just feel brave trying to follow that purpose. It's been an amazing experience and I'm hugely grateful for all the support that we've had.
"To have it shown in Skipton on the big screen is amazing because obviously I came through Skipton on the coast to coast from Liverpool to Goole. For me personally I think it's one of the most beautiful parts of the Leeds-Liverpool canal. There's some stunning footage of the canal - how lucky we are to have it on our doorstep - it really opens your eyes to the beauty of the canals."
Tap here to listen back to Jo Moseley talking to Rombalds Radio on the breakfast show on Tuesday 6th April.
Click here for details about the Drive-in Cinema coming to Skipton on 15, 16 & 17 April or Tap here to book to see Brave Enough
Watch the trailer for Brave Enough