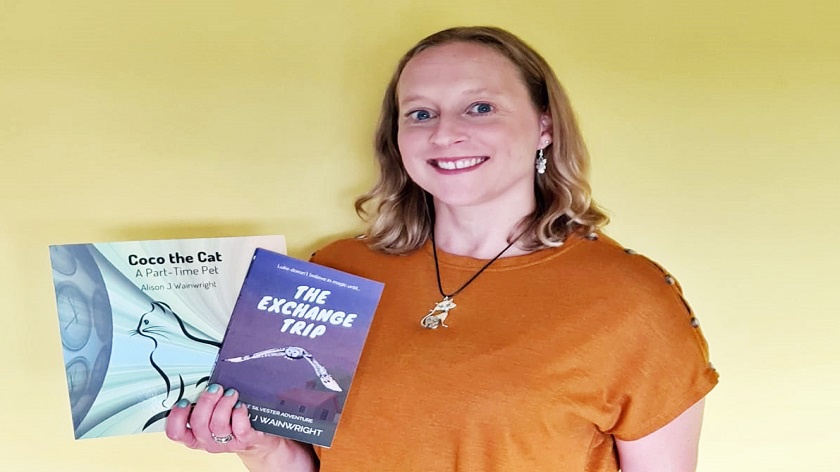 Alison Wainwright has put this year's Covid lockdowns to good use by publishing two books and is donating all her royalties to two charities with Yorkshire connections.
Both books are aimed at children, though The Exchange Trip's tale of magic, adventure and suspense has proved popular with adults as well.
Whilst awaiting proofreading and feedback on the first book, Alison, from Bingley, wrote and illustrated Coco the Cat, based on the true story of the black cat who decided to stay in his old house (now Alison's) rather than move with his owners.
The books are for sale on Amazon, and Alison is donating all the proceeds from The Exchange Trip to Yorkshire Cancer Research, whilst Cats Protection is benefiting from Coco the Cat.
Alison said "When the pandemic restrictions started I was living alone and waiting to start a new job after being unexpectedly let go at work after Christmas. I had already been feeling low, but it got worse when my little bit of routine and family visits stopped. I wanted to get involved in community Covid efforts but didn't know how long I had before starting my new job.
"Then I remembered the children's book I finished writing 19 years ago and had been meaning to publish. I thought helping to keep children occupied during lockdown and giving the profits to good causes was a flexible way of doing my bit."
Dr Kathryn Scott, Chief Executive at Yorkshire Cancer Research, said: "We are delighted that the charity is going to receive the profits from sales of Alison's book. The money raised will help save lives by improving the prevention, diagnosis and treatment of cancer in Yorkshire."
Alison is also working with other not-for-profit organisations to raise funds from direct sales, or from raffling or auctioning signed copies which Alison donates at her own expense. If anyone would like to enquire about cost-price copies of either book to sell on behalf of a not-for-profit organisation they're involved with they can do so at dipitus.wordpress.com/contact