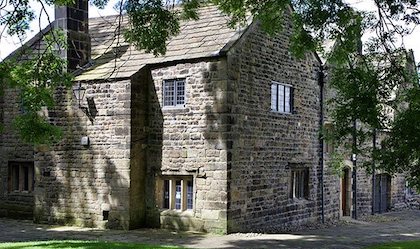 One of Ilkley's oldest buildings is preparing to open for the first time in months, after being closed during the pandemic.
The Ilkley Manor House, which is home to a museum of local history and an art gallery, will reopen at 11am on Saturday 5th September.
Ahead of that this weekend, an event called 'Bard In The Yard' is running, with members of the Ilkley Playhouse performing some classic Shakespeare scenes in the courtyard outside the Manor House on Sunday 30th and Monday 31st August.
Sarah Thomas, Chair of the Ilkley Manor House Trust, told Rombalds Radio: "Their wonderful actors are going to come and do a number of monologues from Shakespeare. We've got about 12 or 14 actors coming so they are going to be short monologues. Performances will be an hour each for between 2 and 3pm so not very long, but we know they'll be really fun and we hope everyone will enjoy coming and join us in the courtyard."
The Manor House itself is described as a 'hidden gem' in the centre of Ilkley. It's tucked away just off the A65 behind All Saints Church.
Listen to Sarah Thomas from the Ilkley Manor House talking to Rombalds Radio:
"It's a Grade I-listed medieval manor house where we offer a whole range of activities and performances and exhibitions, as well as a heritage exhibition about the history of Ilkley," says Sarah.
"The oldest part of the house is 14th Century, and then it's been changed and adapted over hundreds of years. It ended up being divided into five cottages which you can't really believe now - but five very small cottages, which in the end were condemned for human habitation. The house was then gifted to the town, and it was converted then into a museum and art gallery by the then owner Percy Dalton. It's a fantastic asset for the town which has been safeguarded by the Trust being formed to keep it open and being run for the community and for visitors."
When the Manor House reopens on 5th September you will need to book before your visit.
"We are asking people to book timed tickets online, because that will just help us manage the numbers," added Sarah. "We're looking forward to welcoming our visitors, young and old back to the Manor House."
Find out more at ilkleymanorhouse.org