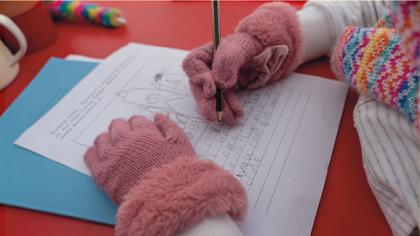 No Child Cold, a campaign which aims to make sure every child in the Bradford district is warm this winter has been launched today.
Bradford's community groups, faith groups, public sector organisations and the business community have joined forces on the No Child Cold campaign to help families struggling with the extra heating costs caused by children being at home more during lockdown.
They are asking businesses and individuals to donate to a fund that will provide one-off small grants to families who need help to keep the heating on at home when children would normally be in school.
As a result of lockdown, around 75,000 children in Bradford are learning from home this winter. But at least 21,000 of those children live in homes where the adults who care for them are struggling to afford to heat the home for all that extra time.
The scheme is being run by Citizens Advice with donations being collected by Give Bradford. Families in need will be referred by schools, foodbanks and voluntary sector groups.
Bradford Council is one of the partners involved. Councillor Adrian Farley, portfolio holder for children and families, said: "The thought of children being cold in their own home is heart breaking but unfortunately we know many families are struggling due to the devastating impact of the pandemic.
"Children being at home in the day rather than at school places huge financial pressure on families that were already struggling.
"It is great that businesses and organisations have come together to tackle this issue and we are proud to be part of the campaign.
"The communities of Bradford have shown their caring and supportive nature throughout this pandemic and we're grateful to all the businesses and individuals who have already contributed.
"Any donations make a difference: £3 can provide heating for a day. For £21, the scheme can provide the additional weekly heating costs for a family to keep children warm while they learn."
The campaign has received the backing of local GP Dr Kirsty King, who knows the dangers a cold home can cause children.
She said: "Living in a cold home is bad for children's health and wellbeing.
"Children living in cold homes are more than twice as likely to suffer from a variety of respiratory problems as children living in warm homes and mental health is negatively affected by fuel poverty and cold housing.
"Cold housing increases the level of minor illnesses such as colds and flu and exacerbates existing conditions such as asthma."
Yorkshire Building Society Charitable Foundation provided one of the first donations to get the campaign underway, pledging £10,000.
Gordon Rogers, Chair of Trustees for Yorkshire Building Society Charitable Foundation, said: "Yorkshire Building Society Charitable Foundation is proud to support the No Child Cold campaign with this £10,000 donation.
"The impact that coronavirus is having across the district with children remote learning throughout the winter months means some families will be really struggling to cover increased energy bills and we hope this will help those vulnerable families that are impacted the most.
"We encourage other organisations and the public to help out if they can."
The scheme will support families where the household income has dropped as a result of a loss of hours at work or furlough as well as families in receipt of certain benefits, or where children qualify for free school meals, and fuel costs have increased because the children have had to stay at home because of school closures.
The grants, of up to £80, will be paid direct to the energy suppliers of the families.
Donations can be made through Give Bradford at https://uk.virginmoneygiving.com/charity-web/charity/displayCharityCampaignPage.action?charityCampaignUrl=NoChildCold