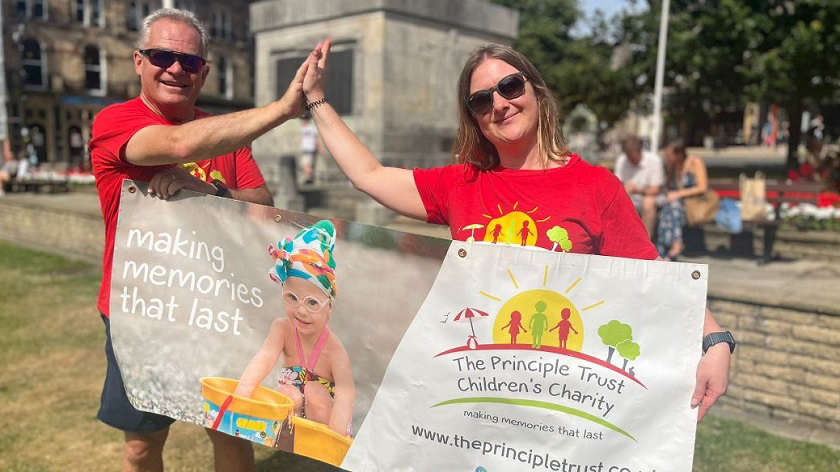 Ilkley fundraiser Simon Thomas is walking from Skipton to Blackpool next month to help raise vital funds for The Principle Trust Children's Charity.
Simon is no stranger to fundraising for the charity, of which is he a Trustee - and has undertaken a series of challenges both on foot and on bicycle.
His latest feat will see him aim to walk around 50 miles from Skipton Castle to the Fylde Coast, home to some of the respite holiday accommodation provided by the charity for local disabled, disadvantaged and underprivileged children, as well as those with life limiting conditions.
Simon, director of Otley-based Greenholme Carpets and Flooring, will begin the three-day walking challenge on Wednesday 1st March. His target is to raise £2,000.
He told Rombalds Radio: "I've done a number of walks now - I started off doing a walk from Liverpool to Leeds on the canal, since then we've done a bike ride from London to Ilkley amongst other things. We're opening 4 new caravans for the children's holidays in Blackpool so I thought I'd take the opportunity of doing a charity walk from Skipton where we're based through to Blackpool and it's going to be called the Castle to Coast Walk.
"It's about 50 miles. I'm going to try to break the back of it in two days and then have a run-in on the third in the morning. I'm probably looking to be doing 18 miles or so for the first two days and then a little hop in to Blackpool on the final day."
Tap here to listen to Simon speaking to us on the Rombalds Radio Local podcast.
To find out more and support Simon's fundraising, visit localgiving.org/fundraising/simons-castle-to-coast-fundraising-walk/