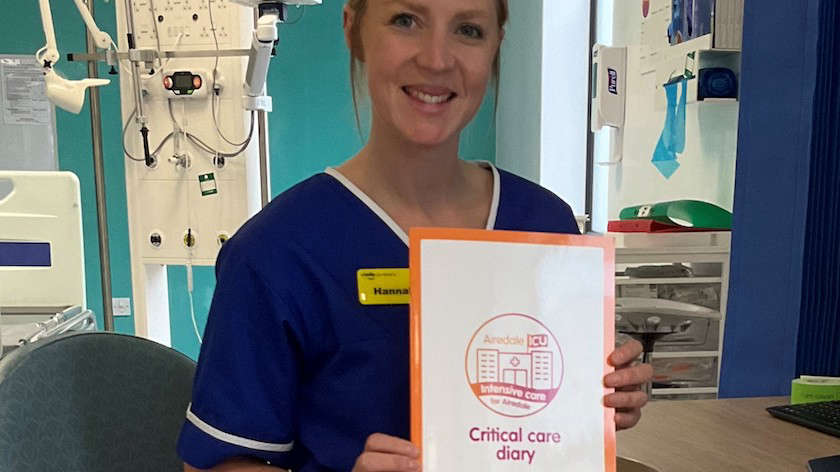 Airedale Hospital and Community Charity has funded new 'Critical Care Diaries' for Airedale Hospital's ICU, to help patients in a critical condition who suffer from amnesia.
Staff, friends and family can use the Critical Care Diary to write daily entries for the patient to help them remember and understand what they experienced during their time in critical care.
Research shows that receiving a Critical Care Diary significantly reduces the risk of ICU (Intensive Care Unit) patients developing anxiety and depression whilst recovering from their critical state.
Airedale Hospital invites former ICU patients to attend follow-up clinics three months, six months and 12 months after being discharged. At these clinics, they are offered the diary to fill in gaps in their memory.
Martin Scott, Clinical Educator in the Intensive Care Unit, said: "The diaries help patients and their families understand and come to terms with what has happened to them while they were critically ill.
"They provide a factual timeline to enable the patient to connect events and rationalise their feelings and emotions during their stay on intensive care."
Airedale Hospital and Community Charity Manager, Jodie Hearnshaw, added: "I'm delighted that the Charity has been able to fund these diaries. They're an important step in the recovery process for patients who have been on ICU, and they help their families understand what they've experienced whilst on the unit.
"Using the money that our donors so generously give to support people's care and recovery is what it's all about for us, and we are very grateful for every single donation we receive."
To make a donation to this important work or for more information about items funded by Airedale Hospital and Community Charity, visit their website at airedalecharity.org.