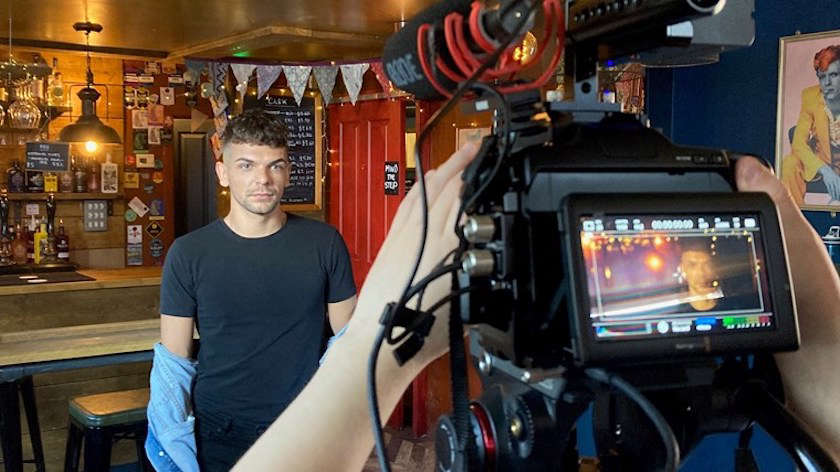 Talented Craven musicians at the beginning of their creative careers are being offered the opportunity to join a scheme to help them on the road to stardom.
Craven Music Match aims to support up-and-coming musicians with professional mentoring, workshops, collaborations and performance opportunities.
The successful programme – now in its second year – is being funded by Craven District Council and Historic England as part of Skipton's High Street Heritage Action Zone (HSHAZ) cultural programme.
Last year saw the first round of Craven Music Match produce three fantastically unique music videos filmed at Skipton Castle, local bar The Mess Room and Craven Court.
One of the talented artists, Rosie Blofeld, went onto receive a commission from Hinterlands Festival to create a soundtrack for their popular "Sounds of Skipton" project. Meanwhile, another participant, Luke Suri (pictured), landed his dream role in a West End production of "The Jersey Boys" and has been touring the country since.
This year, six local artists will get the chance to collaborate in pairs on a new music video as well as being offered mentoring and live opportunities. They will be awarded a grant of £300 to collaborate on one piece for a music video to be filmed in Skipton.
Commenting on the initiative, Cllr Simon Myers, of Craven District Council, said: "Craven Music Match aims to connect musicians from the area to build a supportive, diverse and open network spanning different genres, who can exchange knowledge and skills and be part of the growing live music scene in Skipton and the Craven area. We are pleased to support this initiative."
Meanwhile, local musician and Project Manager Sarah Smout, added: "We want to support those who are in the beginning stages of their creative careers and who would benefit from professional mentoring and workshops; opportunities to develop their regional audience; collaboration and other local artists. If you think this project is for you then we want to hear from you."
The deadline for applications is 23rd May 2022. Applicants must be based in, or have strong links to Craven. They must be over 18 years old and in the early stages of their musical career. If you're interested, visit skiptontownhall.co.uk/craven-music-match/