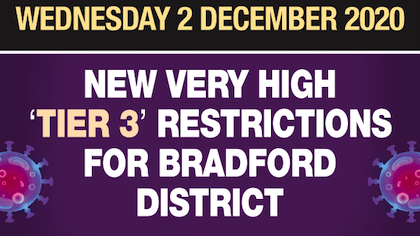 The government has confirmed that the Bradford district will be in Tier 3 of the new Coronavirus restrictions from 2nd December, meaning hospitality venues will not be able to open except for takeaways.
The 'Very High Alert' tier 3 will apply across all of West Yorkshire. All shops are allowed to reopen as well as personal care services such as hairdressers and barbers.
Indoor entertainment venues will be closed and households are not permitted to mix indoors or in most outdoor places, except for support bubble exemptions.
Skipton, which is in North Yorkshire, will be in Tier 2 - permitting hospitality venues to allow people back in for food. Pubs can only open if they are serving food. Venues have to stop taking orders at 10pm but can stay open until 11pm.
Rules for Tier 3 (Bradford district including Keighley and Ilkley):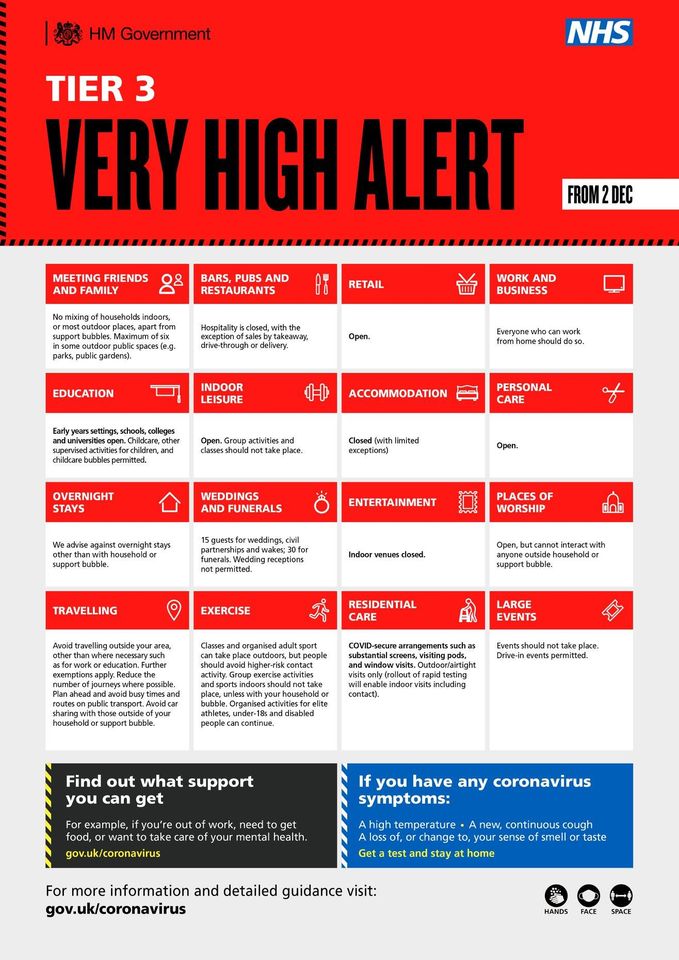 The main differences between the national restrictions and the new Tier 3 restrictions are that under Tier 3:
People can socialise in a group of up to 6 in some outdoor public spaces, including parks, beaches, countryside accessible to the public, a public garden, grounds of a heritage site or castle, or a sports facility.
People can attend COVID-safe places of worship but must avoid mingling.
Non-essential retail can re-open.
The Tier 3 Very High restrictions also mean that:
People must not meet socially indoors or in most outdoor places with anybody they do not live with, or who is not in their support bubble. This includes in any private garden.
People must not socialise in a group of more than 6 in some outdoor public spaces, including parks, beaches, countryside accessible to the public, a public garden, grounds of a heritage site or castle, or a sports facility.
Wedding and civil partnership ceremonies must only take place in COVID-secure venues or in public outdoor spaces unless in exceptional circumstances. Weddings and civil partnership ceremonies are restricted to 15 people. Receptions must not take place.
Funerals must only take place in COVID-secure venues or in public outdoor spaces with up to 30 people in attendance. Wakes or linked ceremonial events before or after the funeral are limited to 15 people and must not take place in private homes.
Schools and colleges will remain open.
People should try to avoid travelling outside their local area where possible, or entering another area rated Very High other than for work, education, accessing youth services, or to meet caring responsibilities.
Visits to care homes can take place with arrangements such as substantial screens, visiting pods, and window visits.
Hospitality settings, such as bars, pubs, cafes and restaurants are closed – they are permitted to continue sales by takeaway, click-and-collect, drive-through or delivery services.
Accommodation such as hotels, B&Bs, campsites, and guest houses must close, except where exemptions apply.
Indoor entertainment and tourist venues must close. This includes:
Museums and galleries
Soft play areas and other indoor play areas
Adult gaming centres, bingo halls and casinos
Gyms and other sport and leisure centres can open but indoor group activity and classes should not take place.
Bradford Council Leader Cllr Susan Hinchcliffe said: "Our infection rates are going down so I welcome the opportunity of a regular review of these arrangements so that we can exit as soon as possible.
"The restrictions must come with more government funding to support the many local businesses and their supply chains which have been battling on in restrictions for months now. The risk is, even with furlough, that many businesses will simply fold and cut their losses. This is particularly true of businesses in the supply chain of the leisure and hospitality sector who have not been eligible for business grants but whose customer base has been closed or restricted for long periods.
"The good news is that non-essential retail can re-open at the busiest time of the year. But Bradford and West Yorkshire are going to need significant investment going forward to support businesses and jobs. I'm already making the case to Government."
Rules for Tier 2 (Skipton and North Yorkshire)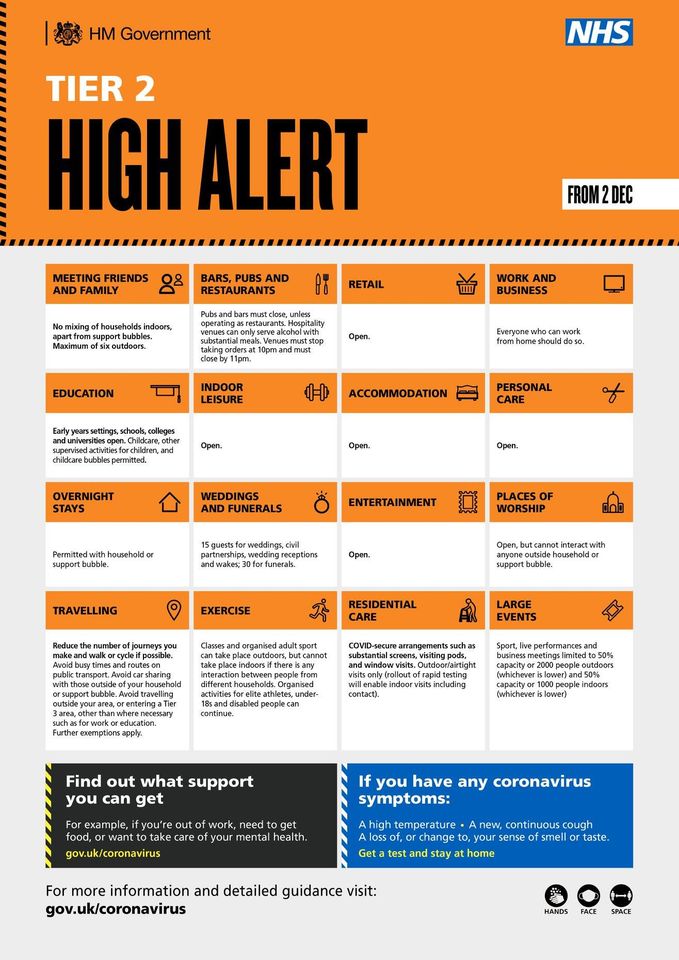 Craven, along with the rest of North Yorkshire will be in Tier 2 (High Alert) from December 2.
Shops and leisure centres, including Craven Leisure, will be able to reopen. However a number of restrictions will still be in place. Pubs and bars must remain closed, unless they are operating as restaurants.
Hospitality venues can only serve alcohol with substantial meals and are required to provide table service only if they sell alcohol, and must close between 11pm and 5am.
Indoor household mixing is still banned in Tier 2 and you must not socialise in a group of more than six people outside, including in a garden or a public space.
Councillor Richard Foster, Leader of Craven District Council, said: "I would like to thank all residents for doing their bit to reduce the rates of Covid-19 in our district. While rates of infection are now dropping, unfortunately across the whole of North Yorkshire and York, rates and hospital admissions with Covid-19 are still too high, and this is reflected in the Government's decision to place the whole area into Tier 2.
"The Government has said today that the tiers will be reassessed on December 10 and any changes implemented on December 16. For us to drop into Tier 1 and get the additional freedoms that go with that we must continue to show improvement. So let's keep up the good work, follow the guidelines, and let's get Craven to Tier 1 as soon as possible.
"We know only too well that many of our local businesses will continue to struggle under these restrictions and we are working hard to help those in need. Please also support local businesses safely where you can – they need your custom.
"Please continue to follow the restrictions – stay apart from other households, wash your hands, and wear a face covering. If you have Covid-19 symptoms, self-isolate and get a test. And if you test positive for Covid-19, please self-isolate for the full 10 days."
Craven Leisure will reopen from December 2, but swimming lessons will not resume until after the New Year.
Craven District Council's Customer Services reception will also reopen on December 2 and will then be open between 9am and 1pm, Mondays, Tuesdays, Wednesdays and Fridays, and from 9.15am to 1pm on Thursdays. The Council's phone lines will operate as normal on 01756 700600.
Skipton's Information and Visitor Centre will reopen on December 2 and normal hours will then resume - Monday to Saturday, 9.30am to 4pm.
Until the new restrictions are in place, residents should continue to observe the national restrictions until Wednesday 2nd December.