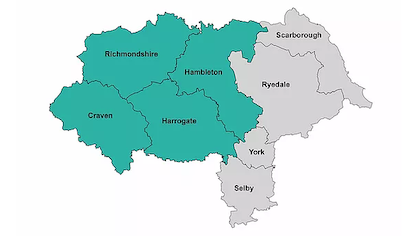 Residents across Craven and North Yorkshire are being urged to take part in a government consultation to determine how council services should be structured in the county.
There will be a move away from the current two-tier system where North Yorkshire County Council controls things such as roads, schools and social care and Craven District Council is responsible for services including waste, leisure and planning.
Instead there will be a unitary authority system in the county, with residents having one council responsible for all services.
Two proposals have been put forward - one option is one council across the whole of North Yorkshire (618,000 residents), though York would remain a separate unitary authority serving the city's 211,000 residents.
The other option is an East/West split to create two unitary authorities. One would be made up of the current Craven, Harrogate, Richmondshire and Hambleton areas (total population 363,000) and the other would comprise the current Selby, City of York, Ryedale and Scarborough council areas (465,000 population).
The government is running an 8-week consultation to get residents' views on the two options.
Councillor Richard Foster, Leader of Craven District Council said: "We would urge residents, businesses and organisations to have their say in this crucial consultation. Please take your time to read the proposals and give your views to Government.
"This reorganisation will affect the lives of more than 800,000 people in York and North Yorkshire, so it's really important that you take this opportunity to make your voice heard."
To take part in the consultation go to https://consult.communities.gov.uk/governance-reform-and-democracy/northyorkshire/