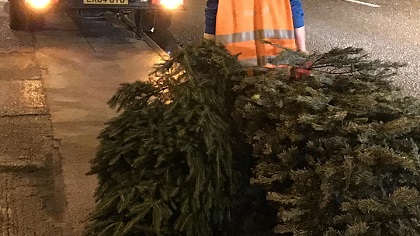 A Christmas tree collection and recycling scheme run by Worth Valley Young Farmers Club has raised more than £20,000 for the Sue Ryder Manorlands Hospice.
Around 1,800 trees were collected from local households during the week of 5th to 12th January, with the help of Skipton Self Drive who provided vehicles to the group.
Keighley Tree Services then shredded the trees and sent the chippings off to a bio-power station.
In an email to those who had their tree collected in return for a donation to the charity, Worth Valley Young Famers Club chairman Joe Holmes said: "This incredible amount will help Sue Ryder to continue to be there when it matters for people going through the most difficult time of their lives; giving people the compassion and expert care they need to help them live the best life they possibly can. Each year Sue Ryder need to raise £2.4m each year to be able to continue to provide their services within the Manorlands catchment area and your support for this project is a vital contribution towards this."
The Young Famers group, which has members aged 10 to 26, runs sessions linked to farming as well as sports, public speaking, social events and charitable activities. As well as the Worth Valley Young Farmers Club there are similar groups in the Aire Valley, Silsden/Skipton, Lothersdale and Upper Wharfedale.